Blast hits cafe in Russian North Caucasus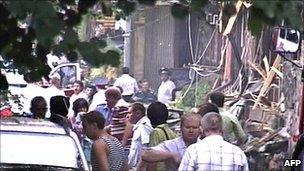 At least 20 people have been injured after a suspected car bomb exploded outside a cafe in the North Caucasus region of southern Russia.
The blast happened in the spa town of Pyatigorsk, in the Stavropol region. Two of the injured are critically hurt.
Russian President Dmitry Medvedev has urged officials to take all possible action to find those responsible.
Hours earlier, a suicide bomber in the neighbouring region of North Ossetia killed a police officer.
Pyatigorsk is the capital of the North Caucasus Federal District, which includes the volatile republics of Dagestan, Chechnya and Ingushetia.
The blast happened about 1615 (1215 GMT).
The BBC's Tom Esslemont in Moscow says it is not known if the attack is connected to the earlier suicide bombing about 150km (93 miles) away in North Ossetia.
Suicide bombings have become increasingly common in the North Caucasus during the past two years, he says, and violence has spread from Chechnya to neighbouring republics.
It underlines the difficulty the Russian government has had in putting a stop to the cycle of violence there, our correspondent adds.
In May, a bomb killed six people and injured about 40 outside a concert hall in the city of Stavropol.
The North Caucasus has long suffered Islamist and separatist violence. Mr Medvedev has said that ending acute poverty in the region is vital for restoring stability.