Former Italian president Francesco Cossiga dies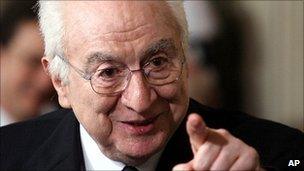 Francesco Cossiga, a former Italian president and an enduring presence in Italy's post-war politics, has died at the age of 82.
He had been taken to hospital in Rome last week with respiratory and heart problems.
Cossiga served as interior minister in the 1970s, resigning after he failed to save the life of kidnapped Prime Minister Aldo Moro in 1978.
He was president from 1985-1992, before becoming an outspoken lifetime senator.
Cossiga was born on the Italian island of Sardinia in 1928 and was a cousin of the long-time leader of the Italian Communist Party, Enrico Berlinguer.
After studying law he rose through the ranks of the Christian Democratic party, entering parliament in 1958. He was made interior minister by Moro in 1976, leading Italy's efforts to combat domestic terrorist groups on the extreme left and right.
Moro was taken hostage by the Red Brigades and held for 54 days in a Roman suburb. The fact that authorities were unable to locate the apartment in which he was being held remains the subject of some mystery.
Cossiga declared himself "politically dead" after Moro's body was found in the boot of a car placed symbolically half-way between the headquarters of the Christian Democrat and Communist parties.
But he served briefly as prime minister in 1979-1980, then used the largely ceremonial role of president to lambaste the Italian parliament and judiciary shortly before Italy's post-war settlement that the Christian Democrats had dominated collapsed amid a massive corruption scandal.
His outspoken stance towards the end of his life earned him the nickname "picconatore", literally meaning someone who wields a pick-axe.