German train crashes into rubbish truck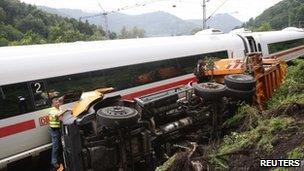 At least 15 people were hurt, one seriously, when a train crashed into a truck after it slid down a hill and onto railway tracks.
The inter-city train travelling between Frankfurt and Paris partially derailed when it hit the lorry carrying bins, officials said.
The train was not travelling at high speed when the collision happened, 80 miles (130km) southwest of Frankfurt.
The driver of the truck was seriously injured. He was flown to hospital.
A British citizen and employees of the railway were among those lightly injured, reports said.
Trains were being re-routed via Strasbourg and the line will be closed for at least a day, police said.