Headscarf ban sparks debate over Kosovo's identity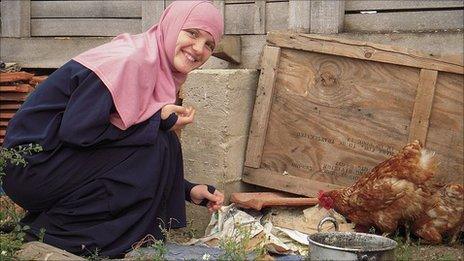 The home of Florinda Zeka in central Kosovo is an idyllic spot, surrounded by undulating hills.
The silence of the countryside is broken only by the family chickens wandering idly through the garden.
But for the last few months, life for this 17-year-old has been anything but peaceful.
She was forced to leave school when she donned the hijab - or Islamic headscarf - in March, after the Kosovan government banned them in state schools.
The local authorities are deciding whether to allow her back when classes resume after the summer holiday.
"I felt very sad and discriminated against because I want to have rights like others - I want to go to school," Florinda tells me, as we sit on the terrace of her family house.
"If they tell me to take it off, I won't do that and I will leave the school because the hijab is more important to me than the school. It's the most important thing in my life," she adds.
The government decided to forbid the wearing of headscarves in public schools late last year, in accordance with the constitution that declares Kosovo - which unilaterally declared independence from Serbia in 2008 - a secular country.
But some here believe that the real motive was a desire by the government to present Kosovo as Westward-looking; to subscribe to what it sees as "European values" in the hope of eventually joining the European Union.
They point to the fact that a vast new Catholic cathedral is being built in the centre of the Kosovan capital, Pristina, while Muslims - who make up over 90% of Kosovo's population - are forced to spill out from the city's mosques onto the surrounding pavements because of a lack of space.
But Kosovo's Deputy Foreign Minister, Vlora Citaku, says other reasons lie behind her government's position.
"The scarf in Kosovo is not an element of our identity. It's a sign of submission of female to male, rather than a sign of choice", she explains.
"I don't think a 16 or 17-year-old, let alone a five-year-old, can take the conscious decision to wear a scarf."
I ask her what the difference is between a 17 and an 18-year-old, and why she would allow headscarves in university but ban them in public schools.
"After 18 there is an overall perception that a person is capable of making their own decision, rather than having a decision imposed," she says, contending that most people support the ban.
"Rather than focusing on a marginal part, we have to take care of the majority. Many parents have expressed very strong concerns about having their children exposed in the classroom to people wearing the scarf."
But the decision has sparked protests in Pristina, with about 5,000 people demonstrating on the streets in June.
Muslim leaders say they will take the government to the European Court of Human Rights if the decision is not revoked.
It is just two-and-a-half years since Kosovo's declaration of independence, and the local authorities are still trying to build respect among the population for what they call their new state.
And those opposed to the law, such as local translator Besa Ismaili, say it is affecting public support for Kosovo.
"It has built hostility towards the government itself and the direction that Kosovo is taking," she says.
"The government needs to build values which will implant love for Kosovo first of all. We need to love Kosovo."
And does this law make it harder to love Kosovo, I ask?
"Yes, it does," she replies. "It does."
On the main pedestrian street of the capital, public reaction is split.
"This idea is not very good because everybody has the right to think for themselves what is the best," says 30-year-old Bajram.
"I know in England they have their rights to go to schools and there is no problem," he adds. "Why do we have a problem?"
But Bujar, an electrical engineer, says he agrees with the decision.
"Those clothes come from Arab countries," he says. "It is a first step to be clothed like that and in future maybe they will become radical."
Some here believe that is a concern shared by the government - that small radical cells are growing within Kosovo's otherwise moderate Muslim community.
And perhaps that fear has contributed to the headscarf decision.
But those opposed to the ban respond by saying the hijab is a fundamental tenet of Islam and in no way represents any radical influence.
And so Kosovo is facing the same choice as many nations - whether to allow free religious expression or to stick to its secular values.
It is a decision that goes to the heart of any democracy and will define the Kosovan identity.