Anne Frank's tree of hope toppled by storm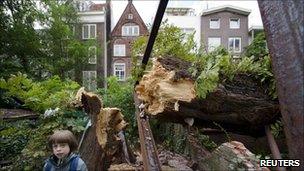 The 150-year-old horse chestnut that brought comfort to Anne Frank as she hid from the Nazis in World War Two has toppled in high winds and heavy rain.
The tree, whose trunk was diseased and rotten, snapped a metre (3ft) above the ground, and crashed into neighbouring gardens in Amsterdam.
It smashed into a brick wall and sheds, but nobody was reported injured.
The Anne Frank House museum, which has a million visitors a year, also escaped unscathed during Monday's poor weather.
"Someone yelled: 'It's falling. The tree is falling,' and then you heard it go down," museum spokeswoman Maatje Mostart told the Associated Press. "Luckily no one was hurt."
A global campaign to save "the Anne Frank tree" was launched in 2007 after Dutch officials and conservationists declared it a safety hazard and ordered it felled. They feared it could topple and crash into the museum.
But the Support Anne Frank Tree Foundation won a court injunction in November that year, stopping the city authorities from chopping it down. Neighbours and campaigners argued that, as a symbol of freedom, the tree was worth making extraordinary efforts to preserve.
But it was blighted with fungus and moths, and two years ago conservationists encased the trunk in steel girders to prop it up.
The Netherlands' Trees Institute, a leading supporter of the project to save the tree, said it was "unpleasantly surprised" to hear it had fallen.
"On the advice of experts in tree care, it had been calculated that the tree could live several more decades" the institute said in a statement. "Alas, in the event it seems that nature is stronger."
The Jewish teenager referred several times to the tree in the diary that she kept during the 25 months she remained in hiding.
Anne Frank wrote on 23 February 1944: "From my favourite spot on the floor I look up at the blue sky and the bare chestnut tree, on whose branches little raindrops shine, appearing like silver, and at the seagulls and other birds as they glide on the wind."
She died, aged 15, the following year in Bergen-Belsen concentration camp.
Related Internet Links
The BBC is not responsible for the content of external sites.