Third baby dies at German hospital after infected drip
By Tristana Moore
BBC News, Berlin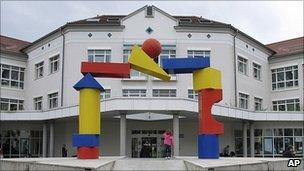 A third baby has died at a university hospital in Germany, after being fed by a drip infected with bacteria.
Doctors at the Mainz University hospital said the infant had been born prematurely, at 24 weeks, and was very small and weak.
Two other babies died on Saturday at the same hospital. They had received the same nutrient solution, via a drip.
Police have launched an investigation into possible involuntary manslaughter, and are awaiting post-mortem results.
Four other babies who were given the contaminated solution are still in the hospital's intensive care unit, but they are reported to be in a stable condition.
It is still not clear whether the solution became contaminated at the hospital or whether it was already tainted when it was delivered.
The deaths have triggered a debate over hygiene standards at German medical facilities.
According to some estimates, each year up to 40,000 patients die from infections contracted in hospitals.