Swiss campaign for referendum on death penalty begins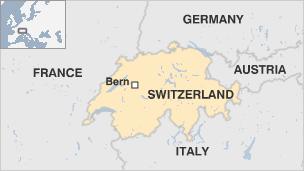 Campaigners who want to bring back the death penalty in Switzerland can begin a process that may force a referendum on its return, the government says.
The campaigners have until 24 February to collect the 100,000 signatures necessary to force a popular vote on the subject, it has been announced.
Campaigners want murder involving sexual abuse, particularly of children, to be punishable by death.
Switzerland abolished the death penalty for civilian criminal cases in 1942.
The government says it is still investigating the wider legal situation surrounding the death penalty.
The referendum could be blocked, even if campaigners get enough signatures, if bringing the death penalty back would contravene international agreements to which the Swiss are signatories.
Switzerland is a member of the Council of Europe, which has made abolition of the death penalty a prerequisite for membership.
The campaigners say execution is a "fair" punishment for murder involving sexual abuse.
But Amnesty International in Switzerland said it did not believe the group would get the number of signatures required.
Until 1867, parts of Switzerland executed criminals by chopping their heads off with a sword.
From then until the last civilian execution in 1940, a guillotine was employed to behead those convicted of capital crimes.