German priest charged with raping girl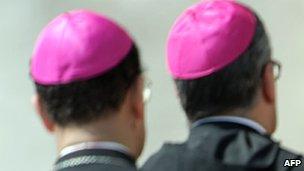 A Roman Catholic priest has been charged in Germany with raping a 14-year-old girl two decades ago.
The woman contacted her diocese in Osnabrueck in March and said she had had a sexual relationship marked by violence with the man - a chaplain at the time - for more than three years.
The clergyman told the girl she would not go to heaven if she did not have sex with him, a prosecutor told AFP.
The woman came forward after publicity surrounding sex abuse in the church.
The priest was suspended by the church when the allegations surfaced.
Osnabrueck diocese spokesman Hermann Haarmann told the AFP news agency the case was handed to prosecutors when the priest refused to turn himself in.
The German Church has been hit by allegations of sexual abuse by priests against children at several establishments - part of a wider scandal involving paedophile priests in the Catholic Church.
Related Internet Links
The BBC is not responsible for the content of external sites.