France drains lake under Mont Blanc glacier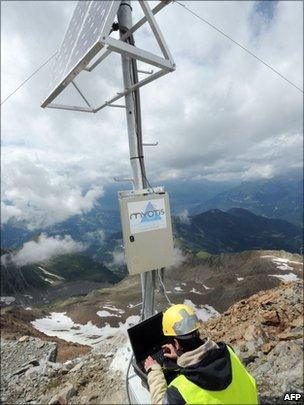 French engineers have begun an operation to drain a lake under a glacier on Mont Blanc which threatens to flood the Saint Gervais valley.
The lake, which is said to contain 65,000 cubic metres (2.3m cubic ft) of water, was discovered last month during routine checks.
The engineers are drilling a hole into the ice to pump the water away.
In 1892, water from an underground lake flooded the same valley, killing 175 people.
The valley is a popular tourist area and is home to some 3,000 people.
The hidden lake, trapped beneath the Tete-Rousse glacier, holds enough water to form a torrent with mud, rocks and trees that would flood the valley in 15 minutes, potentially affecting 900 families.
"The town didn't want to wait for a catastrophe - we are taking action to prevent one," said the mayor of the town of Saint-Gervais-les-Bains, Jean-Marc Peillex.
A system of alarms was put in place in July, but Mr Peillex said some people who did not trust the warning system had moved away from the area.
Nicolas Karr from France's National Forests Office told the BBC's World Today that draining the lake was a delicate operation.
"They have to drill between 40m-50m (130ft-165ft) of ice before reaching the water cavity. We are about at 3,200m high, there's no road, only helicopter access, and it's also an area prone to avalanches," he said.
"We don't have much time to operate because after mid-October, we don't know if the weather will be OK to go on with our works."
Warmer temperatures may have played a role in creating the lake, melting the surface snow, but it was a cold snap that was thought to have frozen the natural drainage routes.
The process of draining the lake is expected to take until October. The engineers will drill a 22cm diameter hole in the ice to begin pumping a third of the water from a pocket 200m below the surface.
They say they are not quite sure what will happen once the water is removed, but ahead of the operation local authorities closed the final section of the Mont Blanc tramway, which passes close to the glacier.
Locals have also been briefed on an evacuation plan.
Mr Peillex told the Associated Press news agency that the operation was going smoothly so far.
"Once they take out the first few dozen cubic metres that doesn't mean there will be zero risk, but there won't be at all the same level of stress that there is today," he said.
Related Internet Links
The BBC is not responsible for the content of external sites.