Croatia extradites Djindjic plotter to Serbia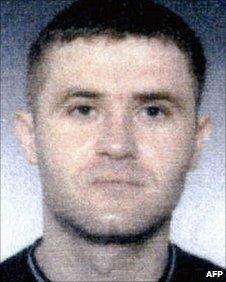 A man convicted of the 2003 assassination of the Serbian Prime Minister Zoran Djindjic has been extradited from Croatia to Serbia.
Sretko Kalinic was arrested in June after being shot by an accomplice in Djindjic's murder, Milos Simovic, who was later arrested himself.
Both men had been at large since the reformist Mr Djindjic was killed by a sniper linked to former paramilitaries.
In 2007, they were sentenced in absentia in Serbia to 30 years in jail.
Kalinic had been found guilty of plotting the assassination. The leader of the plot and the sniper were in court for the trial in 2007, and were jailed.
Kalinic was flown on a Serbian government plane from Zagreb to Belgrade early on Wednesday amid tight security.
A dual Serbian-Croatian citizen, he is the first person to be extradited between the two countries after they recently signed an extradition treaty.
After his arrival, "Kalinic was immediately detained in Belgrade's central prison", said Zorana Vucicevic, a spokeswoman for the Serbian justice ministry's department of corrections.
Under Serbian law he has the right to ask for a retrial as he was sentenced in absentia, but it is not clear if he will request that.
Kalinic was part of the notorious Zemun Clan - an organised crime gang from the western Balkans, with links to paramilitary groups from the Yugoslav wars of the 1990s.
Separately from the Djindjic murder, he has also been sentenced in absentia to 40 years for his role in gangland killings.
He is nicknamed "the Beast" for his brutality, with a reputed speciality at dismembering dead bodies.
Serbian officials said they hoped his testimony would help solve other Zemun murders.