Italy seizes forged art that cost collectors millions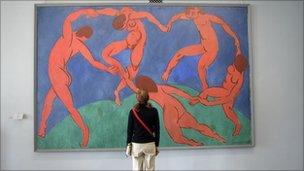 Italian police have seized more than 500 counterfeit pieces of art bought by collectors for millions of euros.
Twelve people have been arrested for forgery and trade after an 18-month-long investigation by authorities.
Police recovered the art by searching the homes of legitimate art collectors, who had bought the pieces online.
The pieces, which included Matisse and Magritte forgeries, cost buyers a total of 8.8 million euros (£7.2m), ANSA news agency reported.
One painting, a large canvas said to have been by 19th Century artist Teofili Patini, sold for 600,000 euros (£490,000).
Another, a copy of a painting by Baroque artist Guido Reni, fetched 300,000 euros (£245,000).
Police said the fakes were "good quality" and that the artists who forged them had used similar techniques to the original painters.
The investigation included monitoring payment transactions online and consulting art historians.