German HIV popstar 'should not be jailed'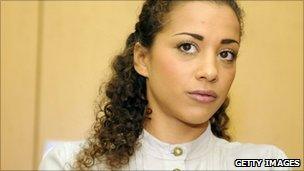 An HIV-positive German popstar accused of infecting a former partner should not be jailed, prosecutors have said.
In closing arguments, prosecutors suggested Nadja Benaissa, 28, should be given a two-year suspended sentence.
Ms Benaissa, from girl band No Angels, admits having unprotected sex, but denies deliberately infecting anyone.
The court, in the central German city of Darmstadt, is expected to give its verdict on Thursday. If found guilty, she could be jailed for 10 years.
At the start of her trial last week, she said she was "sorry from the bottom of my heart" for not warning her ex-boyfriend she was HIV-positive.
He says he was infected by her, and she is accused of causing bodily harm.
Ms Benaissa is also accused of attempted bodily harm for having sex with two other men, who were not subsequently infected.
She said she had not told anybody about her disease because she was afraid of the consequences for her career - which she conceded was a "cowardly act".
She claimed she had been told by doctors that the risk of passing on the virus had been "practically zero".
Ms Benaissa was arrested in Frankfurt last year, shortly before she was due to perform a solo concert, and spent 10 days in custody.
No Angels were formed in 2000 on the international TV show Popstars, before recording a series of hits and emerging as Germany's most successful girl band.
They re-formed in 2007 and competed in the 2008 Eurovision Song Contest, finishing 23rd.
Related Internet Links
The BBC is not responsible for the content of external sites.