Blonde Nazi ballerina 'caused war setback'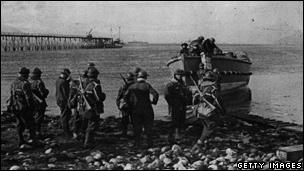 A glamorous Nazi spy may have been behind one of the biggest setbacks suffered by Allied forces during World War II, newly released files suggest.
The secret government papers suggest that Marina Lee, a blonde ballerina, stole battle plans which led to the fall of Norway to Germany in 1940.
According to the files, Germany was close to pulling out of Norway before Lee passed on details of the plan.
The documents were part of an archive released by British spy agency MI5.
Lee is said to have infiltrated the headquarters of the British Expeditionary Forces in Norway and obtained information about the plan drawn up by British commander Gen Auchinleck.
German commander, Gen Eduard Dietl, who was holding the Norwegian port of Narvik, was reportedly considering a withdrawal, but the disclosure of these details meant his forces could block the Auchinleck plan.
British, French and Norwegian troops were later forced to withdraw from German-controlled Norway.
The information about Lee was disclosed after Gerth Van Wijk, a German agent who had changed sides to work for the British, recounted the story he had heard from von Finckenstein, a German intelligence officer.
It was an account backed by another agent, KC Hansen.
Van Wijk said that "with these details in hand Dietl was able to rearrange his defence and to defeat Auchinleck".
Born in St Petersburg, Russia, Lee was married to a Norwegian communist and had trained as a ballerina before becoming "a highly valued and experienced German agent", according to the files.
She is described as "blonde, tall, with a beautiful figure, refined and languid in manner" and reportedly spoke five languages.
One account says she personally knew Stalin - leading to conjectures she was working for both Berlin and Moscow who, at that time, were on the same side, our reporter says.
The BBC's Rick Fountain says the British force went to Norway to stop strategic material falling into German hands, hoping to bolster anti-Nazi resistance, and even maybe build an Allied force to threaten Germany from the North.
But the plan turned into a fiasco which brought down Prime Minister Neville Chamberlain and brought Winston Churchill back to power, our reporter says.
Related Internet Links
The BBC is not responsible for the content of external sites.