Europeans divided on Greek bailout
By Ray Furlong
BBC News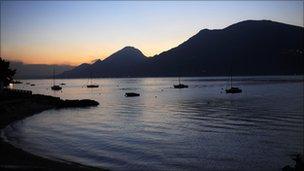 As the European Union continues to bail out debt-ridden Greece, Europe seems divided between the thrifty north and the indebted south - but for holidaymakers in Europe, the picture is not so clear cut.
At the Bella Italia campsite on the shore of Lake Garda, Germans, Italians, Poles and Danes live cheek-by-jowl for a week or two.
This is a microcosm of the EU in a year when its unity and currency has been tested by crisis.
Amidst the camper vans, chalets and tents, nearly everyone has a tale of how they have been affected by economic downturn and austerity.
Alvin, an electronic engineer from Lake Constance in southern Germany, has just arrived and is sitting with his first glass of wheat beer outside his caravan.
"Usually we stay in a hotel. But I was on part-time hours for 20 months, until May," he says.
"We have been getting less money in and we did not know if I would get my job back to full-time, or lose it.
"The uncertainty has been terrible. But now we have some hope, I feel much better."
His daughter's friend, 16-year-old Louisa, is holidaying with them. She says her father is worried about losing his job at an under-floor heating company.
"We have these problems - will he keep his job or lose it? We are worried about the house - how can we afford to keep it?"
Germany has been powering its way out of recession, but for these families there are still worries.
So what do they make of the 750bn-euro ($950bn; £610bn) bail-out package for indebted countries, to which Germany is paying the most?
"I do not think we should help if we do not have anything ourselves," says Louisa.
But Alvin's wife, Krista, disagrees.
"The whole of Europe should be strong. It is good to help the other countries."
Gaitano Martucci, 44, a police officer from central Italy, agrees with that.
"So far we are living through this crisis normally because we have two salaries. Me and my wife both work, so we can live reasonably.
"But we cannot spend a lot of money on non-essential things, and if we spend something one month we have to save the next."
"I think if there are some countries which are doing better than others [and] they have to help the others, because we are all in Europe. It is like a family.
"If a child needs help, the father must help the child. Also, if all the nations of Europe have a good economy then all Europe is stronger. We can compete with Japan, China and the US.
"I do not think Italy will need this kind of help. I think we can get through this time, this worst time, by ourselves. But in the future I do not know."
Mr Martucci's thoughts wander to Italy's current political crisis. Last month, Silvio Berlusconi's main coalition ally walked out on the government.
"I think if there is a change of government then I will be optimistic. With this government, I can only hope."
Italy has a public debt as big as Greece's - 115% of GDP - but its current deficits are much lower.
There is a similar potent mix of economic woes and political crisis in Belgium.
Els de Brael is having a last chat with new-found friends while her husband hitches the trailer to the car. She is not looking forward to going home.
"I am a self-employed teacher - I teach Dutch in companies in Brussels.
"But I am definitely getting to teach fewer courses than two years ago. Maybe I will have to go back to a salaried job, teaching at a school," she says.
"And Belgium has lots of problems, politically and economically, so there are plenty of things to worry about."
Belgium's public debt is 97% of its GDP.
Despite this, nearly two months after the general election, there is still no new government in place trying to deal with it.
"When you live in Belgium and are confronted all the time with these problems, and the government falls and they cannot form a new one, you get worried.
"I have been having a nice holiday - sunshine, friends, swimming - but when I get home the problems will all be there again."
The non-eurozone is also represented at Bella Italia. Families of Britons with hire cars, Swedes and Danes with camper vans, and Poles like Janusz Marek and his family, who are staying in a deluxe tent.
A 40-year-old office worker, he comes from the only country in Europe that has not had a recession during the last year or two.
But he says the statistics do not reflect the underlying reality.
"The prices in Italy are high for Polish people because we earn zloty, and these prices are in euros.
"I think Poland should join the eurozone soon. I have heard about the euro crisis, but Poland is in crisis too.
"We still need to build roads and shopping centres, the complete infrastructure."
Ray Furlong's report will be broadcast on Thursday 26 August on World at One at 1300 BST and PM at 1700 BST on BBC Radio 4, or afterwards via BBC iPlayer.
Related Internet Links
The BBC is not responsible for the content of external sites.