Medvedev suspends motorway project over forest concerns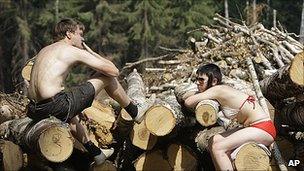 Russian President Dmitry Medvedev has ordered the suspension of controversial plans to build a new motorway through a forest outside Moscow.
Mr Medvedev said construction of the road from the capital to St Petersburg, via the Khimki forest, would be halted until a public hearing had been held.
The decision came after appeals from environmental groups and, surprisingly, the governing United Russia party.
On Sunday, some 2,000 people attended a concert to protest against the road.
Environmentalists say there are several options for the route to bypass the forest, which they say is a unique ecosystem that is home to centuries-old oak trees and many species of wildlife.
In a message posted on his video blog on Thursday, Mr Medvedev said he had ordered the suspension because "our people, from the governing United Russia party to united opposition groups to circles of experts, are saying this demands more analysis".
"Considering the number of appeals, I have taken the following decision: I order the government to halt the implementation of the orders to build the road in question and hold additional public and expert discussions."
Earlier, the party of Prime Minister Vladimir Putin made an unprecedented appeal to the president to halt the project.
"United Russia has turned to the president of Russia... with the request to halt the construction of the highway through the Khimki forest," chairman Boris Gryzlov said in a statement.
"We have different opinions within United Russia about this question. But the situation does not look simple.
"We think that it is necessary to carefully deal with the question and accordingly either change the route of the construction of the road or continue the work taking account of a deeper study of this question."
The announcement was welcomed by the Union of Environmental Non-Governmental Organisations.
"This is our victory," spokesman Andrei Morgulyov told Associated Press news agency. "This decision would have never happened if we were not fighting for our cause."