Twelve dead in northern Turkey landslides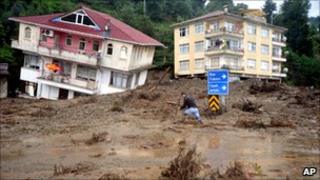 At least 12 people have died in landslides in northern Turkey after torrential rain, officials say.
At least one other person is reported to be missing after rains which began on Thursday triggered landslides in the town of Gundogdu in the Black Sea province of Rize.
Emergency crews have evacuated dozens of people who were trapped in their homes.
Landslides are common on Turkey's Black Sea coast.
Officials said at least seven people with injuries were rescued.
'Buried'
Buildings, homes and vehicles were buried and communications were cut across the affected area. Several roads were shut down.
Many residents had been eating when the landslides hit, after fasting all day as part of Ramadan.
Buruk Aka, who had been dining with his family, lost both his brother and mother-in-law in the disaster.
"We realised that the house was going to collapse. It did before I could say 'run it's going to collapse!'", he was quoted by Anatolia news agency as saying.
"I managed to throw myself out but my mother-in-law and my brother could not escape. They were buried in the landslide".