French comedy L'Italien exposes immigrant's dilemma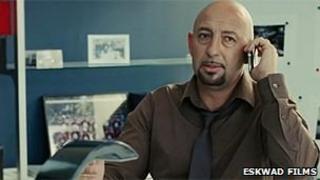 Dino Fabrizzi is not what he seems.
To his friends he is an Italian car salesman; successful, popular, on the cusp of promotion, soon to be married.
But at home - to his mother - he is Mourad Ben Saoud, a French Algerian who changed his name to get a job.
Dino is the main character in a new French comedy called L'Italien.
It lifts the lid on a disturbing reality - one in which an increasing number of second- and third-generation immigrants now play a similar role.
"Dino has two lives," says Farida Ouchani, the woman who plays his mother Rashida in the movie.
"He changes his name to get a job, an apartment, to build a normal life. He is an Arab!"
"It is the way it is here - people have to make a choice about their origin. The role I play in the film is interesting. The first generation of immigrants didn't have to make this choice."
In this economic climate, getting a new job anywhere is tough. Employers are picky because they have plenty of people to choose from.
But here in France, it is especially hard if you come from an immigrant background.
The unemployment rate nationally is hovering at 10%. It is said to be double that figure in the poorer city suburbs, or "banlieues".
Even Kad Merad, the man who plays Dino in L'Italien, is said to have shortened his name from Kaddour, to win himself more acting roles.
There are plenty of others who have been forced to make that same difficult choice.
Naima Mili is a third-generation French Algerian. Her grandfather came to France after World War II to work in the construction industry.
But she is aiming higher.
Ms Mili is a graduate who can speak four languages. In the past, she has worked for top French companies like Credit Agricole, Total and France Telecom.
And yet in her mid-30s she has hit a glass ceiling. She has not had one interview despite sending out her CV more than 100 times.
So now she has decided to change her name from Naima to Naomi.
"I just want to get one interview," she says. "I need to get through the door to show them what I can do. Most of the time I don't even get a response to my application."
It is an extraordinary failure rate and strange since Naima is highly experienced and, you would have to say, highly presentable.
On meeting her, she says, most will comment on her "good Italian looks".
Postcode lottery
But it is not just names that employers are looking at.
If you live in the department of Seine-Saint-Denis, otherwise known as "93", you are fortunate if your CV gets even a second look.
Ms Mili's cousin now sends her applications from her address in "92", or Hauts-de-Seine, which seems to be more palatable to a prospective employer.
"There's something sadly wrong in France," says Mustapha Kessous, a sports journalist with the Le Monde newspaper.
"With a foreign-sounding, Arab name you have to be good. In fact, you have to be excellent. And if you are excellent, it still might not be good enough."
In a recent article, widely debated here in France, Mr Kessous recounts the story of his first meeting with the current Interior Minister, Brice Hortefeux, formerly the minister for national identity and immigration.
Mr Kessous stood to greet him, they smiled, shook hands.
"Have you got your papers?" asked the minister jokingly.
But the government has gone some distance to encourage companies to trial anonymous CVs.
One group using them to good effect is the main public transport operator in the capital, Regie Autonome des Transports Parisiens (RATP).
They receive applications through the internet. There is no requirement for a name or an address.
"Yesterday, we welcomed another group of applicants from an extremely diverse background," says Jean Pierre Baratta, director of development at RATP.
"It is big plus for our company and hugely encouraging for applicants who come in, to see who else is being invited. They're immediately set at ease. For us it has been a big success."
Identity and immigration are the two biggest themes in France at the moment and not just on the silver screen.
The movie, L'Italien, is not accusing France of being racist, but it does open eyes to how complicated it can be integrating into French society - even when you are French.
Comedy it might be - but for some, Dino's story is the frustrating reality.