Eta 'ceasefire' all too familiar for Spain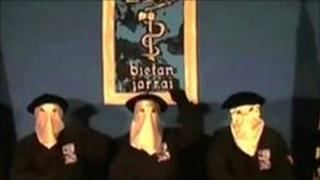 The Spanish government has held a firm line on the issue for some time: unless Eta, the armed Basque separatist group, renounces violence for good and disarms, there can be no negotiations.
This statement from Eta falls short of that.
Without using the word ceasefire or truce, it states that Eta " took the decision several months ago not to carry out offensive armed actions".
The declaration underlines that Eta remains committed to the goal of Basque independence, but says it is ready to "agree to the minimum democratic conditions" to achieve that without violence.
It looks like a call for new peace talks. That might appear a welcome opportunity to bring Europe's last separatist conflict to an end, but it is not the first time Spain has been here.
Fingers burned
The first peace talks with Eta were in 1998 after it called an "indefinite ceasefire". They broke down after 14 months.
Since then, the Socialist government has had its fingers badly burned at the negotiating table and is likely to be cautious about repeating the experience.
Eta declared its first ever "permanent ceasefire" in March 2006 and in spite of some fierce political opposition, the government chose to hold talks with the group, to make the peace last.
All hopes were shattered nine months later when an Eta bomb killed two men at Madrid airport and the talks collapsed.
Whilst many ascribed that attack to hardliners outside the peace process, it badly damaged any faith the government had in Eta's motives. Continuing the talks also became a political liability.
Even if that distrust has faded somewhat over four years, the timing for controversial talks is poor. The government's popularity rating has been battered by the economic crisis and talking to Eta will not help.
Many Spaniards question whether it is even necessary now.
It is widely accepted that Eta is weaker than ever in its 51-year history. More than 700 of its members are in prison. It does retain the capacity to kill, but has not done so for over a year.
French connection
This new statement claims that the last few months without attacks were part of a previously undeclared ceasefire. But Spanish officials argue Eta is being squeezed out of action by security forces here and across the border.
In March, President Nicolas Sarkozy vowed to flush Basque separatists out of France after a shooting there, denying them a crucial safe-haven.
Police in Spain and France have made numerous recent arrests, including men they claim were senior Eta commanders.
Alleged attacks have been foiled and co-operation with other European countries in detaining Eta suspects has improved.
So to many people, Eta's retrospective ceasefire will look like an attempt to disguise its weakness as a desire for peace. Some will shrug it off as irrelevant; others will dismiss it as a way to regroup and re-arm.
It will also be linked to next year's municipal elections in the Basque country, where radical Basque separatists have been pushed from power. The pro-Eta political party, Batasuna, was banned from politics in 2003 for its links to terrorism. It regularly polled up to 15% of the nationalist vote.
At the last elections, Basque nationalists lost power for the first time in three decades and the socialist president has used his time in office to clamp down on displays of support for Eta, which is internationally recognised as a terrorist organisation.
Batasuna and its allies started paving the way for a comeback earlier this year. In March they announced a new strategy, declaring an end to the armed fight for independence and their backing for the democratic process. But without a supporting statement from Eta, that met with official indifference.
'Not interested'
Today, after weeks of rumours, Eta has added its own, similar declaration - the result of a strong, internal debate. Its hope must be to negotiate the legalisation of Batasuna, and achieve its aims through the ballot box. But the government's response is far from clear.
"Some may call a ceasefire historic, or the end of the conflict - but we've been there before. A ceasefire is just another tactic," believes Rogelio Alonso, associate professor of security studies at Madrid's Rey Juan Carlos University. He was responding to rumours a truce was imminent.
"Eta is not interested in a permanent end to violence. We have tried dialogue many times. Holding more talks is a mistake," he adds.
If the government did decide on fresh talks, it would have the anger of the families of Eta's victims to contend with.
"It would be shameful if the government started a dialogue again. The only way to stop Eta is with the security forces," believes Francisca Puelles, the widow of Eduardo Puelles, a Basque police officer killed by an Eta car bomb last summer.
After so many years of conflict, the government may find it difficult to dismiss Eta's call for a truce, out of hand. The pull of presiding over a moment of history might prove irresistible. But it has tried that before, and failed.
This time - in this context - it will be much more cautious. Eta's armed fight for Basque independence has lasted more than four decades and killed more than 850 people.
This latest ceasefire declaration could mark the beginning of the end of the conflict, or just another pause in the violence.
Correction 8 September 2010: Due to a translation error, originally we quoted Eta saying it had decided "not to carry out armed actions"; in fact the term it used was "offensive armed actions"