The fat lady sings for Castle Ward opera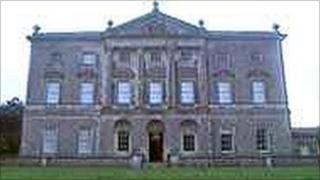 Castle Ward has proven an apt host for one of the most popular opera events in Northern Ireland.
Over 25 years, the magnificent grounds have proved a worthy backdrop for both well known works and those unfamiliar to the untrained ear.
Tens of thousands of people have passed through the gates over the past quarter of a century to view 33 opera - the last of which took place on Friday and Saturday night.
All, according to artistic director Ian Urwin, have been enjoyable - not least the "bittersweet" farewell events of the weekend.
"The audience really loved it and they felt the pain as much as we did. From what they were saying to us, they want Castle Ward or something similar to be regenerated."
The reasons behind the closure are not those of a complicated, intricate libretto but altogether more prosaic.
All over the world, opera depends on public funding.
The Italian taxpayer coughs up £220m a year including 40% of the running costs of La Scala in Milan.
In England, £65m goes to opera from the public purse.
Core funding for Castle Ward came from the Arts Council to the tune of £159,000 - cash that has now been cut.
The council promises there will still be money available and will be directed towards "a robust, new, creative enterprise, geared for the future".
It is a pledge that has to be seen in the context of more cuts to come.
The Department of Culture, Arts and Leisure has warned that cumulative cuts of £46m are likely over the next five years.
Critics have warned that consequently the arts will be severely damaged by the chancellor's rapier.
Ian Urwin and his colleagues are hoping that, as far as the opera scene is concerned, the wounds are not fatal.
In any case, he says, the unique atmosphere of Castle Ward will be difficult to replicate elsewhere - though, with the epic encouragement of his patrons behind him, he has not ruled out an attempt.
"Coming away on Friday and Saturday night, and listening to the audience, they were all saying - 'you must keep going, you must do something, you cannot die'.
"So we will just have to wait and see. If some very prosperous business comes along with a couple of hundred grand, then we are back in business."
In the meantime though, the fat lady has finished her final note.