Greek finance minister survives cabinet reshuffle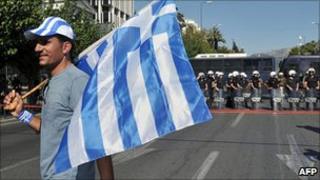 Greek Prime Minister George Papandreou has reshuffled his cabinet but left the key post of finance minister unchanged.
Analysts say the changes are intended to boost economic and social policy areas and appease voters angry with tough austerity measures.
The ministers of development, labour and health have all been replaced.
Greece is imposing tough economic measures including pay cuts and tax rises in return for a massive EU-IMF bailout to stave off bankruptcy.
The country has been hit by waves of protests and strikes since its financial crisis began 11 months ago.
Government spokesman George Petalotis said the new cabinet would be sworn in at midday on Tuesday.
Mr Papandreou's decision to retain George Papaconstantinou as finance minister is widely seen as a signal that the socialist government will not be swayed from its tough economic programme.
Several party members who served in previous socialist governments have been brought back into the cabinet.
Correspondents say this is an apparent effort to woo traditional party supporters who are less likely to support the austerity measures.
Regional elections are due to be held across Greece on 7 November.