France to continue deporting Roma despite EU pressure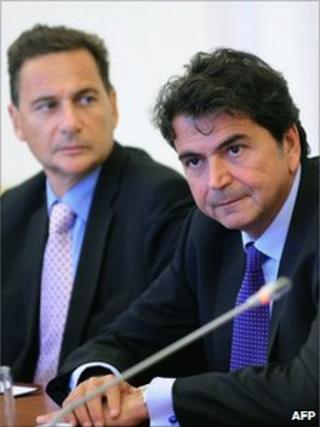 France will not stop deporting Roma (Gypsy) people, French Immigration Minister Eric Besson has said on a visit to Romania.
Reacting to the European Parliament's call for deportations to be halted, he said France would work to help Roma integration within Romania.
Romania will draw up integration plans and will send extra police to Paris to help curb crime committed by Romanians.
France has promised money to help Roma return to Romania.
About 1,000 Roma have been deported from France in recent weeks.
Speaking in Bucharest alongside Romanian Foreign Minister Teodor Baconschi, Mr Besson played down friction over the issue.
The two men said their countries would work together to try to obtain additional funding from the EU for measures aimed at improving living conditions for Roma in their countries of origin.
Since Romania and Bulgaria joined the EU in 2007, many Roma have come to France seeking a better life, the BBC's David Chazan reports from Paris.
But French President Nicolas Sarkozy has accused them of turning to crime, prostitution and the exploitation of children.
'Political diktat'
European MPs urged France to suspend immediately its deportations on Thursday.
Their toughly worded resolution, passed by 337 votes to 245, said that mass expulsions amounted to "discrimination on the basis of race and ethnicity".
It warned policy-makers against making "any statements which link minorities and immigration with criminality and create discriminatory stereotypes".
MEPs also demanded strong action by the European Commission and EU governments to integrate Roma, many of whom live in poverty.
However, Mr Besson said there was "no question" of Paris complying with the resolution.
"We are not going to submit to a political diktat," he said.
"I want to say very clearly that there is no question of France suspending returns to countries of origin, whether they are Romanians, Bulgarians or any other nationality."
Italy resumed dismantling illegal Roma camps around Milan and Rome this week.
Two years ago, Italy deported dozens of Roma in a major crackdown.
See full list of European countries with Roma populations
[919.85KB]