Nine Serbs to face Kosovo charges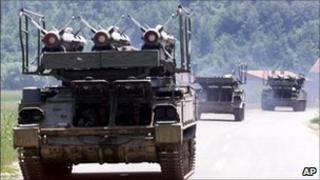 Serbian prosecutors have charged nine Serbian ex-paramilitaries with killing 43 ethnic Albanian civilians during the Kosovo conflict in 1999.
In a statement, the war crimes prosecutor in Belgrade said the nine shot their victims in the back multiple times and burned the corpses.
The accused, former members of the Jackals paramilitary group, were detained in March.
The killings took place in the western village of Cuska in May 1999.
Serbian troops were driven out of Kosovo in 1999 after a Nato bombing campaign aimed at halting the violent repression of the province's ethnic Albanians, who constituted 90% of its two million population.
Kosovo declared independence in 2008 - a move which Serbia has refused to recognise.
Serbia now wants to join the European Union, but must first prove to Brussels that it is serious about prosecuting for atrocities committed during the wars in Croatia, Bosnia and Kosovo during the 1990s.
'Extremely brutal'
The indictment of the former Jackals is the result of an investigation by the war crimes prosecution in Belgrade, working with the EU mission (Eulex) in Kosovo.
The former paramilitaries are accused of murder, rape, looting, intimidation and destruction of property in Cuska.
The purpose was to drive ethnic Albanians from their homes, the war crimes prosecutor said in a statement.
The murders were committed "in an extremely brutal way", the indictment said.