EU urges Bulgaria and Romania reforms to fight crime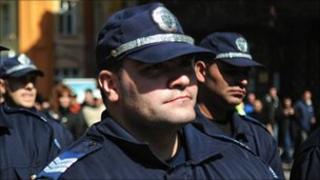 EU leaders say Bulgaria and Romania must take urgent action to tackle crime and corruption - areas in which they are failing to meet EU standards.
EU foreign ministers said Bulgaria must strengthen the transparency and accountability of its courts and impose tougher penalties for organised crime.
Major shortcomings were also found in Romania's judiciary and the EU voiced concern about conflicts of interest among government officials.
Both countries joined the EU in 2007.
The European Commission set up a Co-operation and Verification Mechanism just for Bulgaria and Romania because the EU judged that they needed to do more in the areas of judicial reform, combating corruption and - for Bulgaria - organised crime.
Pressure has increased for them to speed up the reforms because they both want to join the Schengen zone next year - the area of passport-free travel for EU citizens, which covers most of the EU.
In 2008 the Commission suspended about 500m euros (£413m) of aid to Bulgaria, saying it must do more to fight corruption and organised crime.
'A matter of urgency'
At their meeting in Brussels on Monday, the EU ministers praised Bulgaria for having stepped up penal reforms and indictments for high-level corruption and organised crime.
But they complained of "important deficiencies" in court procedures and inadequate judicial follow-up of organised crime cases, recommending the use of dissuasive sanctions and asset forfeiture.
In Romania, they said new legal codes set to take effect in October 2011 "will provide an important opportunity for a thorough reform of the Romanian judicial system".
But the EU statement said "little effective progress has been achieved as regards the efficiency of the judicial process, consistency of jurisprudence and the accountability of the judiciary".
"Human resources remain a major challenge. A co-ordinated anti-corruption policy across the different sectors of government is missing. Substantial improvements are required in the field of conflict of interest" in Romania, it said.
"The [ministerial] Council encourages Bulgaria and Romania to intensify their reform efforts as a matter of urgency," the statement said.