Moscow mayor Luzhkov to sue over state media 'attacks'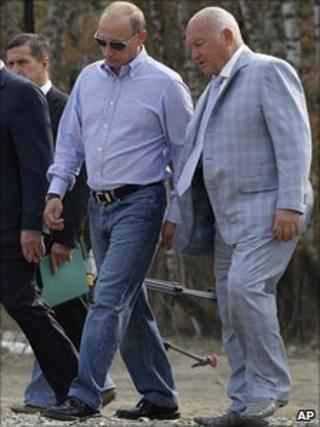 Moscow Mayor Yury Luzhkov says he will sue several state-linked Russian TV channels after they ran documentaries that were critical of him.
The programmes alleged that Mr Luzhkov used his position to further the business interests of his wife, Russia's richest woman.
They also criticised him for holidaying during a wildfire crisis this summer.
The programmes come amid speculation that Mr Luzkhov has fallen from favour with Russia's president.
Russian media reports have suggested that President Dmitry Medvedev wants Mr Luzhkov - in office since 1992 - removed from his post.
"It is pointless to list all the insinuations that have been voiced," the Moscow government said in a statement on Monday.
It said all the recently broadcast "negative" reports were groundless, and that the mayor and the city of Moscow would "file appropriate defamation suits on each of those accounts".
'Nothing new'
The construction company, Inteko, which is owned by Mr Luzhkov's wife, Yelena Baturina, said it was also planning to sue several channels.
Vladimir Kulistikov, Director General of the NTV channel, said it was standing by its report.
"Dissatisfaction of the rich and powerful is nothing new for NTV," he was quoted as saying by RIA Novosti news agency. "We are ready to stand by the accuracy of the facts."
Last week, the 73-year-old mayor wrote an article in which he criticised a decision by President Medvedev to suspend a road-building project and said the mood in Russian society was "difficult".
Russian news agencies later carried reports citing Kremlin sources as saying Moscow city officials were trying to drive a wedge between Mr Medvedev and Prime Minister Vladimir Putin, and that this was unacceptable.
On Friday, NTV ran a programme entitled The Cap Affair, a reference to Mr Luzhkov's habit of wearing a flat cap.
The documentary berated him for remaining outside Moscow during a heatwave this summer when the Russian capital was engulfed in smog.
It also accused him of failing to tackle the city's traffic problems, as well as promoting his wife's business interests.