Verdict still out on Church's abuse stance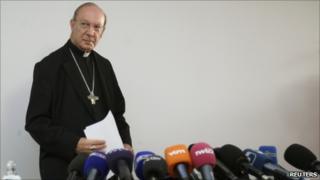 The Roman Catholic Church in Belgium has acknowledged that its clergy took part in the widespread sexual abuse of children for years and tried to reassure the public that it can help the victims and prevent further abuse in future.
Archbishop Andre-Joseph Leonard, the head of the Church in Belgium, said that after a report on the level and scope of the abuse was published on Friday, "a feeling of anger and powerlessness" had taken hold.
"The report and the suffering it contains make us shiver," he added.
But for all its soul searching, the Church has come up with few concrete proposals.
It announced plans for a centre for "recognition, reconciliation and healing", which it hopes to open before Christmas, and called on all abusers to come forward and admit their crimes.
Archbishop Leonard also said that the Church had to listen to the victims of abuse.
"Personal attention for the victims is the first thing we have to re-establish," he said.
"In the wake of... this report, we want to get involved and be completely at the disposal of the victims. We have to listen to their questions in order to re-establish their dignity and to help them heal the suffering they must have endured."
For many, however, the Church will not have gone far enough.
Thirteen victims of abuse are thought to have killed themselves and many others are still struggling with the trauma of being repeatedly abused and raped by those they were told to trust.
San Deurinck, who was abused as an 11-year-old boy by two priests, now works for a victims' support group and says the Church could have acted far earlier.
"They knew about these cases of abuse at least since 1992. Our committee brought forward evidence, tried to notify the bishops, but they did not want to listen to us."
"The Church is a private organisation, and they should... give all what they have in material, archives, documents, they should hand it over to the state authorities."
Probably the surest sign of whether the Catholic Church in Belgium has really changed is likely to be its willingness to co-operate with the authorities.
In future, all alleged abuse victims will be told to go to the police, according to Archbishop Leonard.
There is strong evidence that in the past, the Church actually tried to discourage compliant victims that it was not in their interest to report abuse to the authorities and offered victims money in return for their silence.
The news that the disgraced former Bishop of Bruges, Roger Vangheluwe, who has admitted to abusing his nephew for years, has gone into hiding to "contemplate his life and his future" has angered those who believe he should be defrocked and cast doubt on whether the Church is serious about changing its ways.