Spain arrests suspected leaders of pro-Eta group Ekin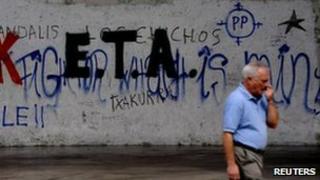 Nine people suspected of leading Ekin, a support group for the Basque militant group Eta, have been arrested in northern Spain, police sources say.
Seven arrests were made in the Basque Country and Navarre, and the other two in the Valencia and Cantabria regions.
Ekin is said to act as an organiser for Eta, stirring up street protests and spreading the militants' message.
Eta declared a new ceasefire this month, in a move the Spanish government said was not enough.
The arrests in Valencia and Cantabria were of suspects whose homes are in the Basque Country and Navarre, the Spanish news agency Efe reports.
According to the agency, those arrested are believed to have been replacements for Ekin members jailed last year.
Ekin, it adds, was created in 1999 "to take charge of stirring up public unrest and street violence and is suspected of acting as an 'organiser, distributing and ensuring compliance'," with Eta's instructions.
It appears to be separate from Batasuna, the outlawed Basque party accused by the government of being Eta's political wing.
Two previous ceasefires by Eta were both abandoned.
The group's campaign for a separate Basque state has led to more than 820 deaths over the past 40 years.
On Monday, a Spanish court sentenced one of its former military chiefs, Gorka Palacios Aldai, to 83 years in prison for killing a police officer in a 2001 attack in Madrid.