Kidnap victim Natascha Kampusch's escape 'guilt'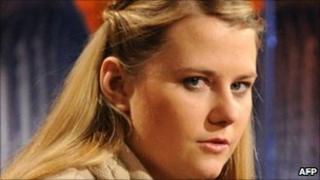 Natascha Kampusch, who was kidnapped at the age of 10 and held in a cellar for more than eight years, says she feels guilty over her captor's suicide.
The Austrian's kidnapper, Wolfgang Priklopil, killed himself after she escaped in August 2006.
"I feel guilty because I brought about his death because of what I did," she told BBC Radio 5 live Victoria Derbyshire.
The 22-year-old has just released her autobiography.
She told the BBC she could have predicted Priklopil's suicide.
"I knew this whole thing wouldn't end any other way," she said.
"I knew that if I didn't try and escape, he would kill me sooner of later. And I knew that if I tried to escape, he would kill himself."
She eventually managed to flee in 2006 when she was cleaning Priklopil's car and he was distracted by a phone call.
"I know that I'm not to blame but I still don't feel comfortable about the fact I triggered it [his death]," she told the BBC.
Defiant
In her book she has described how she was beaten, starved and abused during her incarceration by her captor, whom she describes as "sick".
Ms Kampusch was kidnapped on her way to school, aged 10, and locked in a windowless cell in the suburb of the capital, Vienna, less than 16km (10 miles) from her home.
Despite his determination to control her, she said she found small ways to defy him.
"I figured out that [his] fits of rage weren't actually aimed at me - but at this strange, and inescapable situation," she said.
"Because even though he's locked me in and taken me away from my family and even though he controlled everything, he couldn't own me. And once I'd figured this out - it helped me to survive and cope."
Other methods of coping with her captivity included asking Priklopil to read her a story and give her a goodnight kiss at bedtime.
It helped soothe her longing for her mother, she said.
"I didn't want to do without the affection of my mother. I wanted to have the feeling I was kind of like at home," she said.
"It did make me feel a bit better. And it also showed me that my kidnapper was still human and had some empathy."
In her book, entitled 3,096 Days, she says was subjected to physical and mental abuse on a regular basis by a man who "wanted to have someone for whom he was the most important being in the whole world".
"He seemed not to know any other way of doing this but by kidnapping a shy 10-year-old girl," Ms Kampusch writes.
Listen to the full interview on the BBC Radio 5 live podcast.