UN defers vote on enhanced EU status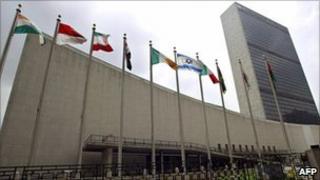 The UN General Assembly has defeated a resolution that would have granted the EU extra rights in its proceedings.
The Caribbean regional grouping Caricom called for the resolution to be deferred - and 76 countries voted for that, 71 were against and 26 abstained.
Developing nations were concerned that the EU was seeking rights denied to other regional groupings.
Enhanced observer status would have enabled top EU officials to address the assembly like national leaders.
The deferral means that the European Council President, Herman Van Rompuy, will not be able to address the assembly on behalf of the EU next week.
His powerful job was created by the Lisbon Treaty, which came into effect last December.
One of the treaty's goals was to give the EU a bigger collective voice on the world stage - so at the same time the EU appointed Baroness Ashton as its High Representative for Foreign Affairs, heading a new team of diplomats.
The UN resolution does not affect the UN's main decision-making body, the 15-nation Security Council, where two of the five permanent members are in the EU - France and the UK.
The BBC's Barbara Plett at the United Nations in New York says that as current holder of the EU's six-month rotating presidency Belgium will most likely speak on behalf of the EU.
The EU as a grouping is not a UN member and its delegates sit alongside entities such as the Vatican, the Red Cross and the Arab League.