Profile: Akhmed Zakayev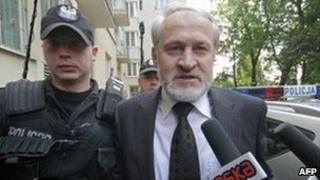 Granted political asylum in the UK in 2003, Akhmed Zakayev is one of the best-known Chechen exiles, though his actual role in the separatist movement has diminished.
One of the few rebel commanders to have survived the two wars with post-Soviet Russia, he can point to a solid record in militant terms.
This good-looking and softly spoken former actor, who once served as the rebel government's culture minister, is - in some eyes - the acceptable face of the Chechen rebel cause.
The more radical elements in the rebel movement have disowned him in recent years, accusing him of acquiescing with the Moscow-backed government of Ramzan Kadyrov in Chechnya.
However, Russia continues to pursue him on charges of terrorism dating back to the Chechen wars, most recently pressing Poland to arrest him on an international warrant.
Fighter
Born in 1959 in Kazakhstan, where many Chechens were deported after the USSR accused them of collaborating with Nazi Germany, Akhmed Zakayev trained to be an actor.
After studies in Russia, he worked in theatre in the Chechen capital Grozny.
When war broke out in 1994, he made his mark as a field commander, awarded the rank of brigadier by separatist leader Dzhokhar Dudayev.
His fighters took part in the dramatic capture of Grozny in a surprise attack on the Russian army in August 1996.
He was then instrumental in negotiating the Khasavyurt peace accords that brought Chechnya de facto independence.
He became the right-hand man of Dudayev's successor, Aslan Maskhadov, who made him his deputy prime minister after defeating him in the Chechen presidential election of 1997.
Among his roles was to act as Maskhadov's special envoy abroad.
Mr Zakayev fought again in the second Chechen war which began in 1999, and conducted negotiations after Moscow reconquered the territory.
The talks in November 2001 broke down as Russia reportedly demanded nothing short of capitulation by the rebels.
Soon afterwards, Mr Zakayev moved with his family to the UK.
Exile
Since moving to Britain, the veteran rebel has found himself grappling with two very different opponents: the Russian state and radicals within the rebel movement.
Continuing in his role as Maskhadov's envoy, he travelled to Denmark in October 2002 to hold a congress of Chechen exiles, and was promptly arrested at Russia's request.
Moscow had just suffered one of its most traumatic hostage crises of the conflict, when a Chechen suicide squad seized a theatre, and the Russians accused Mr Zakayev of helping to organise the attack.
After slightly more than a month in custody, Mr Zakayev, who denied involvement, was released by the Danes for lack of evidence.
Back in Britain, he successfully fought off another extradition request from Russia and received asylum there the following year.
Russia's hopes of having him returned to its territory for trial were revived in September 2010, when he went to Poland for another Chechen congress and was arrested on a Russian warrant which charges him with armed rebellion, murder and kidnapping.
'Apostate'
The charges he faces in Russia contrast sharply with how Akhmed Zakayev is perceived by radical Chechen militants today.
The movement has fragmented since the death of Maskhadov in March 2005, with its credibility tarnished by a string of attacks on civilian targets in 2004 which culminated in the Beslan school siege.
In 2007, new rebel commander Doku Umarov declared himself head of a proposed Islamist state spanning the Russian North Caucasus and described Western countries as enemies of all Muslims.
Mr Zakayev resisted the development, appointing himself prime minister of the Chechen government-in-exile. He called the radicalisation of the rebel movement a "tragedy".
In August 2009, he was reportedly dismissed as prime minister by the rebel parliament and, shortly afterwards, was reportedly sentenced to death by the Islamists as an "apostate" who had recognised the authority of Ramzan Kadyrov.
Despite hints that the Moscow-backed Chechen government would favour a reconciliation with exiles such as Mr Zakayev, Ramzan Kadyrov welcomed his arrest in Poland, accusing him of serving Western governments' interests.
"The West needs Zakayev as long as he keeps barking at Russia," he said.
But Mr Zakayev has long called for negotiations with Russia, saying in March 2010 that independence for Chechnya was "not an end in itself".
"Sooner or later, Chechens and Russians will have to negotiate and sort out their relations," he told BBC News in an interview after the death in 2006 of Shamil Basayev, who had claimed responsibility for Beslan.
"If we keep looking back, the bloodshed will not end in the North Caucasus."