Bomb suspect 'targeted' Danish paper Jyllands-Posten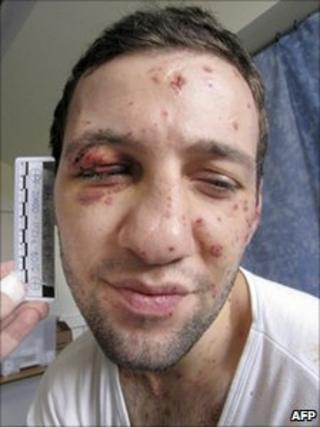 Danish police think a man hurt in a blast was making a letter bomb to use against a newspaper which published cartoons of the Prophet Muhammad.
The man was arrested in a park in Copenhagen on 10 September after a small explosion at a nearby hotel.
Police spokesman Svend Foldager said the device would have had the explosive force of a hand grenade.
He was "reasonably confident" Jyllands-Posten had been targeted by the suspect, who denies any crime.
The suspected would-be letter bomber pleaded not guilty to firearms charges and putting lives at risk when he appeared in court on 11 September.
He has been named by police as Lors Dukayev, born in 1986 in Chechnya and now living in Belgium.
The relatively low-tech device - which contained TATP high explosive and ball bearings - was ready for use, the police spokesman said.
Jyllands-Posten, a best-selling newspaper, published 12 caricatures of the Prophet Muhammad in 2005 to accompany an editorial criticising self-censorship in the Danish media.
Their publication, which both broke an Islamic tenet banning the portrayal of his image and mocked him, sparked riots in many Muslim countries, causing several deaths.