Dutch face budget cut of at least 3.2bn euros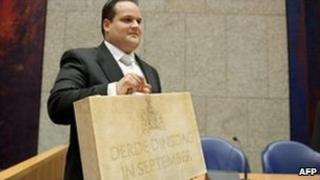 The Dutch caretaker government has announced budget cuts of 3.2bn euros (£2.7bn, $4.2bn) for 2011, but the final figure may be much higher.
Spending on healthcare, immigrants and government workers will all be slashed in a bid to reduce the budget deficit.
The head of one of the parties trying to form the next government foresaw cuts of 18bn euros over four years.
Talks on a new government have dragged on for months, as the country recovers from the 2008 global financial crisis.
Opening parliament, Queen Beatrix warned the country faced an unsustainable deficit.
"As a consequence of falling tax income and stimulus measures, government deficits have strongly increased," she said.
"The state debt and deficit have risen to a level that is over time not sustainable. Structural financial measures have to be taken now."
'Nothing less'
Major savings in Tuesday's budget include increasing patient healthcare payments, slowing pay raises for government employees to below the inflation rate, and reducing a tax break for childcare.
In another move, which analysts attribute to recent anti-immigrant sentiment in Dutch society, funding for mandatory language and citizenship classes for immigrants will be cut with immigrants expected to cover the gap.
Sybrand van Haersma Buma, acting leader of the Christian Democrats, told Reuters news agency he did not see cuts of anything less than 18bn euros as possible.
Frans Weekers, financial spokesman for the Liberals, said: "We have to cut more, but I am not sure if it is possible already in 2011."
The finance ministry confirmed the new government could attempt to alter the 2011 budget at any time by pushing an amendment through parliament.
Under EU rules, the Netherlands is meant to reduce its budget deficit to 3% of GDP or less by the end of 2013.
The acting government's official economic think tank said the deficit would fall from 5.8% this year to 3.9% in 2011. The previous projection for 2011 was 4.7%.
However, economic growth is forecast to slow to 1.5% in 2011.
"State debt... has never been this high," Finance Minister Jan Kees de Jager told parliament.
"It is now time to draw the purse strings."
The budget was drawn up by the outgoing government of Prime Minister Jan Peter Balkenende, whose coalition collapsed in February after a row over military involvement in Afghanistan.
The results of the general election in June were inconclusive, but a conservative coalition is expected to be formed shortly.