Women dominate new Swiss cabinet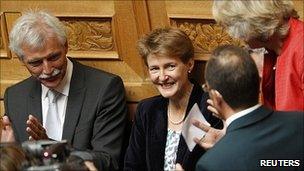 Switzerland's parliament has voted a new minister into the government, giving the cabinet a majority of women for the first time.
The election of Simonetta Sommaruga, 50, a Social Democrat, is a historic step in a country where women only got to vote on a national level in 1971.
Ms Sommaruga becomes the fourth female in the seven-member Federal Council.
Another absent post was filled by a man - Johann Schneider-Ammann.
The seven members of the Swiss cabinet have recently always been drawn from the four leading parties.
Although it is highly unusual in Europe for women to hold a majority in a country's cabinet, it is not unique. The Spanish cabinet unveiled by Prime Minister Jose Luis Rodriguez Zapatero after his re-election in 2008 included more women than men.
Finland, Norway and the Cape Verde Islands also have female majorities, according to the Inter Parliamentary Union.
"Symbolically, it is a rather powerful message from a country with a conservative reputation to have four or five women out of the seven seats in the government," said Pascal Sciarini, who heads the political science institute in the University of Geneva, to the AFP news agency.
Women in Switzerland have traditionally had a low-key role in public life, says the BBC's Imogen Foulkes in Berne.
They first got to vote at local canton level in 1959, but not at federal level until 1971. The last canton, Appenzell Innerrhoden, finally granted them voting rights in 1990.
The first female government minister was elected in 1984, but until now only six women have ever held ministerial posts.
But, when it comes to gender equality, the new team will still have a mountain to climb, our correspondent says.
Swiss women lag well behind men in average salaries, the Swiss state spends less than a third of Unicef's recommended minimum on childcare, and when it comes to maternity leave, Switzerland ranks as the least generous country in Europe.