Putin plays down talk of battle for Arctic resources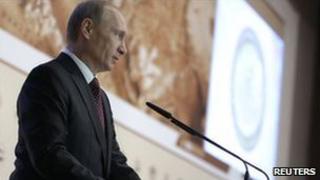 Russian Prime Minister Vladimir Putin has rejected talk of an impending battle for control of the Arctic region's mineral resources.
He told an international conference in Moscow he was confident the region's resources could be exploited in a spirit of partnership.
Russia believes the UN will recognise its claim to much of the Arctic seabed.
The scramble for resources has been set in motion partly by improved access caused by the melting of polar ice.
Russia, Norway, Canada, Denmark and the US have all laid claims to territory in the region.
"One comes across all sorts of fantastical predictions about a coming battle for the Arctic," Mr Putin told the International Arctic Forum on its closing day.
"We can see clearly that most of these frightening scenarios in the Arctic have no real foundation...
"I am in no doubt whatsoever that the existing problems of the Arctic, including those of the continental shelf, may be resolved in a spirit of partnership, through negotiations, on the basis of existing international legal norms."
Mr Putin's speech was much anticipated given Russia's fast-moving attempts to claim control of a huge swathe of extra territory in the Arctic all the way to the North Pole, the BBC's Richard Galpin reports from Moscow.
Ridge claims
One-quarter of the Earth's untapped energy riches are believed to be buried in the Arctic sea floor.
The race for control centres on an underwater mountain range known as the Lomonosov Ridge.
Russia, Canada and Denmark are all seeking scientific proof that the ridge is an underwater extension of their continental shelf.
In 2001, Moscow submitted a territorial claim to the United Nations which was rejected because of lack of evidence.
It plans to resubmit the claim in 2012-13 after spending some 2bn roubles ($64m) on research, according to the Associated Press news agency.
Canada is likely to hand its file to the UN around 2013 while Denmark plans to put forward its details by the end of 2014.
Under the UN Convention on the Law of the Sea, a coastal nation can claim exclusive economic rights to natural resources on or beneath the sea floor up to 200 nautical miles (370km) beyond their land territory.
But if the continental shelf extends beyond that distance, the country must provide evidence to a UN commission which will then make recommendations about establishing an outer limit.