Georgian president eyes unspoilt haven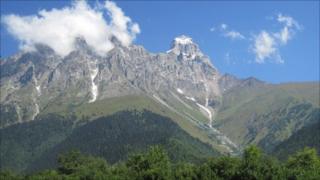 Of all Georgia's beauty spots, one of the most breathtaking is the region of Svaneti.
Its mountains are imposing; its valleys verdant.
And when its old, iconic stone towers are illuminated at night, they glow like candles.
It is a majestic sight for the tourists who travel hours to get here.
To them, the sense of isolation felt is another of its attractions. In the winter, the region is completely cut off from the rest of Georgia.
But Svaneti is rapidly changing.
Within months, if all goes according to plan, this north-western corner of the country will become a ski resort.
"We're rebuilding Svaneti and when it's finished it's going to impact very positively on our salaries and our lives," says Murtaz, a local Svan who has been hired as a road-builder.
His face reddened by the summer sun, he stops mixing cement to tell me: "We used to have a lot of problems here."
"For six months of every year we were unable to leave Svaneti. The snows and heavy rains meant it was cut off," he says.
He says it is the first time in two years that he has had a salary.
'No documents'
To the whirr of generators and crack of pneumatic drills, a new road is being built to allow easier access.
Nearby, the airport is being expanded. Private hoteliers are being lured. Ski lifts are being delivered.
The main town, Mestia, is being gentrified.
But the government-backed project has split Georgians and Svans into two camps.
There are those who see the economic advantage, and others who say the project will upset local traditions.
This ancient region - barely touched until the 1930s when Soviet planners arrived - has remained distinct for centuries. And that includes the way land is owned, bought and sold.
In a grassy field, Lela Japaridze tells me how the few hectares she says belong to her mother are now in the hands of a foreign investor. He reportedly wants to build a hotel.
Ms Japaridze's mother - local opposition politician Neli Naveriani - was charged, along with three of her relatives, for allegedly extorting the equivalent of $40,000 (£25,000) from the investor.
"My mother was one of the only ones to rebel against the local authorities and to criticise the project," she says.
"Now she has been arrested. She is a political prisoner. There is very little [political] opposition in Mestia," she says.
Ms Japaridze says the only proof of ownership is a document registered in 1903.
'Afraid'
Under the Soviets, who took control of Georgia in 1921, people were stripped of such documents as well as the right to own.
Since the collapse of the Soviet Union in 1991 people have begun to claim rightful ownership, but with little evidence of authentication.
The authorities say they will listen to local concerns and have set up special committees on land registration.
For Ms Japaridze, it may be too late.
"People are too afraid to protest. They've seen what happened to my mother," she says.
The outgoing head of the local authority, Gocha Tchelidze, says that he understands the concerns, but that the majority will benefit from the construction work.
"Many of the traditional qualities of the buildings were lost here during Soviet times. By restoring this town we will also restore the original quality, visually and spiritually," he says.
He tells me how he feels sorry for those who have been caught up in the ownership scandal.
But the government appears determined to modernise Svaneti.
The tourism department says $18.5m (£11.8m) has been spent on the resort's infrastructure.
'Legacy'
The flamboyant Georgian president, Mikheil Saakashvili, has appeared several times on national television to endorse the project.
In one video, shown in August, he can be seen skiing down a glacier to the whoops and cheers of onlookers.
The presidential endorsement has attracted criticism.
"If they [had been] sufficiently consulted beforehand I believe many Mestians or [Svans] would support the project but the basic problem is that they are not consulted at all," says Keti Gujaraidze, who runs an NGO called Green Alternative.
She says the building work in Svaneti, which comes at the same time as a glitzy revamp of Georgia's main seaside resort, Batumi, is a sign of how President Saakashvili is polishing his legacy.
It is a legacy that remains tainted by Georgia's defeat in its war with Russia in 2008.
Back in Mestia there is a cloud of dust gathering as the road builders begin another evening shift.
They dig, drill and pour concrete against the backdrop of mystical stone towers silhouetted against the sun.
It is hard to believe there will not be more opposition to such a huge project in a place which, for centuries, has been so resistant to change.