Hospital for German Finance Minister Schaeuble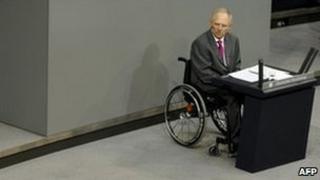 Germany's wheelchair-bound Finance Minister, Wolfgang Schaeuble, is to spend four weeks in hospital for bedsore treatment.
Mr Schaeuble, regarded as Chancellor Angela Merkel's most experienced minister, was crippled in a gun attack by a deranged man in 1990.
He attended a news conference with four other ministers on Tuesday.
The 68-year-old had a new operation this year but then suffered an adverse reaction to new medicine.
Because of his periods spent in hospital, he had to miss important international meetings during the eurozone crisis which followed the Greek debt disaster in April.
On Tuesday, he attended the joint press conference to present a new government energy plan which included the contentious retainment of nuclear reactors.
On Monday, he was at a meeting of European finance ministers in Brussels where he fought against French opposition to automatic sanctions for states that break budget rules.
Mr Schaeuble has been at the heart of German politics for decades, helping in the 1980s to build ties with the USSR and pushing for German re-unification.
The veteran CDU (conservative) figure was shot and paralysed at an election rally in October 1990. His attacker was declared mentally ill and confined to a clinic.