Moscow Mayor Luzhkov kicked into wilderness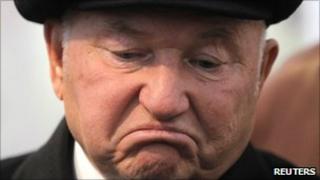 In the secretive world of Russian politics, it is very rare for conflicts at the centre of power to be played out in public.
They are normally hidden from view behind the thick Kremlin walls - which is why the conflict between the Russian president and the Moscow mayor has been so remarkable.
The Kremlin and City Hall have been sniping at each other for weeks.
This month, the Kremlin went on the offensive: all September, state-controlled TV channels have been heaping criticism on Yuri Luzhkov, accusing the mayor of bad management and of corruption.
It was a powerful hint: the mayor should step down.
Mr Luzhkov was not given much of a choice.
According to the Kremlin, he could either resign voluntarily or wait to be sacked.
On Monday, the Moscow mayor declared he had no intention of jumping - so he has now been pushed.
"As president of the Russian Federation, I have lost confidence in the mayor of Moscow, Yuri Luzhkov," Dmitry Medvedev told journalists in Shanghai.
"According to the law, 'loss of confidence' is grounds for dismissal."
Cast out
After 18 years as mayor, which made him one of the most influential figures in Russia, Mr Luzhkov is now in the political wilderness.
It is unclear whether he will now retire from politics to concentrate on his main hobby - bee-keeping - or whether he will attempt to sting those who engineered his downfall and go into opposition.
It is also unclear how strong President Medvedev is after this battle.
Sacking the most powerful regional leader in Russia may boost his authority.
But it is widely believed that Dmitry Medvedev only took this decision in consultation with Prime Minister Vladimir Putin. Most Russians view Mr Putin as the real power in Russia.
President Medvedev's press secretary admitted that the president had informed the prime minister of his plan, before he signed the decree firing the mayor.
Later, Vladimir Putin said President Medvedev had acted "in strict accordance with the law".
Mr Putin also indicated he "would have the possibility of expressing an opinion" on who gets appointed the next Moscow mayor.