EU mulls suing France over Roma expulsions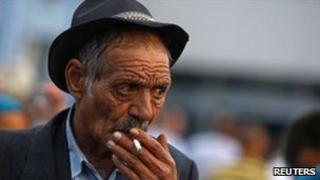 The European Commission is due to decide whether to take legal action against France over its expulsion of thousands of Romanian and Bulgarian Roma (Gypsy) migrants.
A decision to sue France could eventually lead to substantial fines and prove a serious embarrassment to President Nicolas Sarkozy.
The expulsions led to a blazing row between Brussels and Paris.
A senior European Commissioner compared them to events during World War II.
Tougher option
The stakes are high, both for Brussels and Paris.
Having described France's actions as a disgrace, the European Commission can hardly afford to back down.
Officials say they are very confident action will be taken.
They say France has not done enough to write EU legal guarantees for the free movement of people into its own laws - but neither have several other EU countries.
So the Commission could decide to warn Paris it needs to change its legislation within weeks, but also extend that warning to a handful of other capitals to cushion the blow.
And there is a tougher option - Paris could also be sued for discrimination under the EU Charter of Fundamental Rights.
That would be unprecedented and a huge blow to France's reputation as the home of human rights.
Both courses of action could eventually lead to huge fines - the last thing President Sarkozy would want as he campaigns for re-election in 2012.
And it seems it is not what the Commission has in mind either.
"We want to avoid going to the European Court of Justice, which could take years," one official said. "All we want France to do is comply with EU laws."