Sacked Moscow mayor Yuri Luzhkov 'may appeal'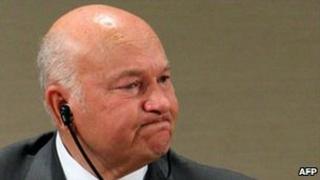 The sacked long-time mayor of Moscow, Yuri Luzhkov, may appeal against his sudden dismissal by President Dmitry Medvedev, a friend has said.
Russian crooner Yosef Kobzon said he had tried to persuade Mr Luzhkov that an appeal would be pointless but he would "probably insist".
Meanwhile, prosecutors said they were pursuing corruption cases against officials from the mayor's office.
Mr Luzhkov was not named in the cases, which pre-date his sacking.
The sacked mayor has 10 days to lodge an appeal at the supreme court against his dismissal.
It has emerged that he wrote a scathing letter to Mr Medvedev shortly before his removal.
The Kremlin says Mr Medvedev only read the letter after dismissing Mr Luzhkov but it would not have affected his decision in any case.
The president sacked the mayor of 18 years by decree on Tuesday, saying he had lost confidence in him without elaborating.
'Luzhkov's call'
Mr Luzhkov's deputy, Vladimir Resin, is now serving as the caretaker mayor while the Kremlin has made clear it will decide Mr Luzhkov's successor.
Deputy Mayor Alexander Ryabinin, who is accused of taking a bribe in one of the corruption cases, resigned on Wednesday, Mr Resin confirmed.
Moscow city hall earlier insisted that Mr Ryabinin was innocent.
Russia's powerful former president and current prime minister, Vladimir Putin, who approved Mr Luzhkov's return to office for a fifth term in 2007, said Mr Luzhkov should have tried to mend his ties with Mr Medvedev.
"It's quite obvious that there was a strain in the Moscow mayor's relations with the president, but the mayor is subordinate to the president, not the other way round," he said in televised remarks.
"[He] should have taken steps to normalise the situation."
President Medvedev has been out of the country on a visit to China.
Russian news agencies say Mr Luzhkov was seen returning to his office early on Wednesday to clear out his possessions.
"I will need several days to pick up my personal things," he told Interfax.
"My awards alone take up several cupboards."
'Fear of speaking out'
In his letter to Mr Medvedev, published in the opposition magazine New Times on Wednesday, he had questioned the president's commitment to democracy.
"In our country the fear of expressing your view has existed since 1937," he said, referring to the Great Terror under Josef Stalin.
"If our leadership merely supports this fear with its statements... then it is easy to go to a situation where there is just one leader in the country whose words are written in granite and who must be followed unquestioningly.
"How does this stand with your calls for 'development of democracy'?"
Notwithstanding Mr Luzhkov's letter, some human rights activists welcomed his dismissal.
The former mayor appalled many by his frequent denunciation of gay rights activists - at one point calling them "satanic" - and consistently blocking their attempts to hold rallies.
Police arrested pro-democracy activist Roman Dobrokhotov and several others on Tuesday evening as they tried to celebrate Mr Luzhkov's sacking outside the city hall with an unapproved rally.