Tour de France winner Alberto Contador tests positive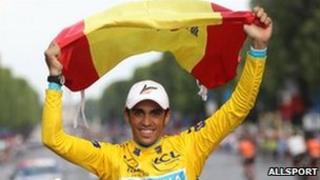 Cyclist Alberto Contador, winner of the 2010 Tour de France, has said he has tested positive for a banned substance.
Contador's press officer said he had tested positive for clenbuterol during a rest on the Tour in July.
In a statement, the spokesman added that the Spanish rider was the victim of "food contamination" and would hold a news conference later on Thursday.
Cycling's governing body, UCI, later confirmed that Contador had been provisionally suspended.
Cycling has struggled with doping allegations for years.
Among a host of high-profile offenders, US cyclist Floyd Landis was stripped of his 2006 Tour title for a positive drugs test.
'Further investigation'
In the statement on Thursday, Contador's press officer said the rider was first made aware of the test by the UCI (Union Cycliste Internationale) on 24 August.
He said Contador would hold a news conference in his home town of Pinto, in Spain, at 1200 local time (1000 GMT) on Thursday.
The cyclist would use it "to give his version of what happened" direct to the public, the spokesman said.
The UCI followed Contador's statement with its own, confirming that the rider had been "formally and provisionally suspended as is prescribed by the World Anti-Doping Code" after both his A and B urine samples tested positive in a laboratory in Cologne, Germany.
However, the UCI said the concentration found by the laboratory was estimated at 50 picograms - 400 times less than anti-doping laboratories accredited by the World Anti-Doping Agency (Wada) must be able to detect.
"This case required further scientific investigation before any conclusion could be drawn," the statement added.
Clenbuterol, a stimulant that increases breathing capacity and boosts the flow of oxygen in the bloodstream, is sometimes prescribed to treat asthma but is also often used in attempts to reduce body fat.
Contador, who was riding for the Astana team, won the world's most prestigious race for the third time on 25 July in 2010.