France fingerprints Roma deportees to prevent return
By Christian Fraser
BBC News, Paris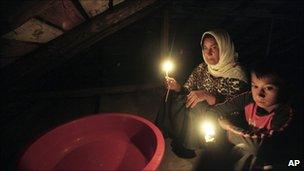 The French Immigration Ministry is to fingerprint Roma (Gypsies) who get financial aid after being deported.
From Friday, biometric records will be created on Roma and other foreigners who receive up to 300 euros (£259; $409) after they leave France.
Most of them are repatriated to Bulgaria and Romania.
Authorities say some expelled Roma make return trips to France to benefit several times from the financial assistance they get for going home.
In 2009 more than 15,200 return aid payments were made to immigrants, mostly Roma, who were expelled from France.
The French government classes the majority as "volunteers", who are given a cash payment of 300 euros per adult or 150 euros for each child.
The expulsion fund cost the French government 9m euros last year.
There is suspicion in France that some of the Roma flown home to eastern Europe have used the cash handouts to come back under false identities.
The French government hopes taking a biometric record of everyone who is expelled will cut back on fraud.
The decision to fingerprint the Roma has led to concerns by human rights groups, who already accuse the French government of targeting a minority group.
And France was warned by the European authorities this week that it will face disciplinary proceedings and possible court action if EU freedom of movement is not enshrined in French law by next month.
Commission officials said the onus is on Paris to prove that it is not targeting Roma as an ethnic group.
France believes it has law on its side. President Sarkozy said his country has every right to expel foreign Roma who are living in France without a job or any means to support themselves.
Related Internet Links
The BBC is not responsible for the content of external sites.