Ukraine court boosts powers of President Yanukovych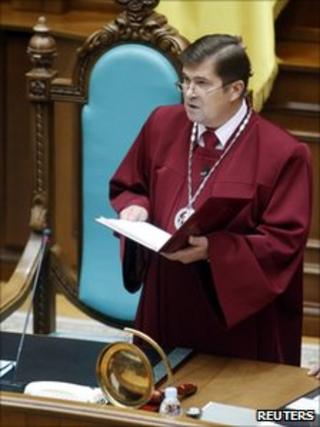 Ukraine's constitutional court has boosted the powers of President Viktor Yanukovych by reversing a reform introduced in 2004.
It ruled that the reform, which curbed presidential powers in favour of parliament, had been unconstitutional.
The move had given parliament the right to name the prime minister and most of the cabinet members.
Mr Yanukovych won the presidential election in February on a strongly pro-Russian platform.
The court's decision does not come as a surprise and was widely predicted in the local press, the BBC's David Stern reports from Kiev.
Still, it marks a watershed in President Yanukovych's steady consolidation of power, our correspondent says.
It means that Ukraine has once again become a presidential republic, as it was under President Leonid Kuchma, who led Ukraine until the events of 2004.
Ukraine's hryvnia currency remained unchanged by news of the court ruling and was trading at 7.9320/7.9370 to the dollar, as it was at the end of the session on Thursday, dealers told Reuters news agency.
Power base
The reform was introduced during the Orange Revolution, when mass demonstrations overturned rigged elections and brought Viktor Yushchenko to power.
It was designed then as a compromise between the new pro-Western president and parliament and had the support of Mr Yanukovych's camp who, analysts say, saw it as way of checking Mr Yushchenko's powers following their own candidate's defeat.
The reform did indeed frustrate Mr Yushchenko's administration, setting him up for confrontations with parliament and his former ally Yulia Tymoshenko.
The ruling announced on Friday followed hearings called by 252 MPs loyal to President Yanukovych.
They had argued that the 2004 reform was illegal as it had not been approved by the constitutional court, in violation of procedure for all constitutional amendments.
"The court has ruled that the 2004 amendments to the Ukrainian constitution were unconstitutional due to violations of constitutional procedures in their examination and adoption," the head of the court, Anatoly Holovyn, announced in Kiev.
Four judges recently appointed to the court are seen as sympathetic to Mr Yanukovych and tipped the balance of power in his favour, our correspondent adds.
Boosted by recent defections from Mrs Tymoshenko's camp, Mr Yanukovych currently enjoys strong support in parliament.
But even should his allies lose the next general election, due in 2012, he will continue to have a free hand in deciding his prime minister and cabinet.
His predecessor, Mr Yushchenko, was eliminated in the first round of the presidential election in January. In the second, Mr Yanukovych defeated Mrs Tymoshenko by a narrow margin.