Germany digs up park after clash in Stuttgart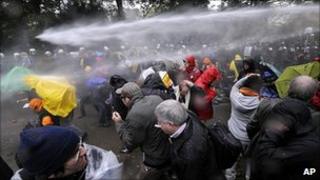 German police are keeping protesters away from diggers uprooting trees in a Stuttgart park after clashes in which dozens of people were injured.
On Thursday police used pepper spray and water cannon against a crowd opposed to the south-western city's railway modernisation project.
The plan is to move the main railway station underground - but trees have to be felled on the chosen site.
More than 100 people - some of them children - were hurt in the clash.
Police fenced off the site and excavators began digging in the park early on Friday, while protesters shouted "Stop! Stop!" and blew whistles.
About 1,000 police were deployed to protect the site on Thursday, confronting several thousand demonstrators, German media reported.
Several protesters were admitted to hospital, but their injuries were reported to be relatively light.