Russia's Medvedev attacks Belarus President Lukashenko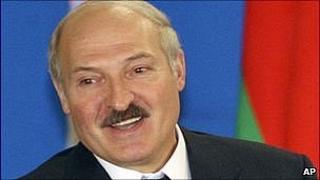 Russian President Dmitry Medvedev has launched a strong attack on Belarus President Alexander Lukashenko, who faces re-election in December.
Speaking in his weekly video blog, President Medvedev accused his Belarusian counterpart of "hysterical" anti-Russian rhetoric.
He was responding to Mr Lukashenko's allegations that Russia was interfering in the election.
Russia and Belarus are usually close, but recently ties have been strained.
Belarus receives considerable economic assistance from Russia, and since taking power 16 years ago President Lukashenko has had strong support from the Kremlin, says the BBC's Steve Rosenberg in Moscow.
Whenever the West has accused the Belarusian president of rigging elections, or of repressing political opponents, Moscow has always taken his side.
Patience running out
But recently Mr Lukashenko has been more critical of Russia.
On Friday, he accused Russian companies of financing opposition politicians in Belarus ahead of the presidential election.
He accused Mr Medvedev himself of meddling in the election, and said if he could "concern himself more with Russia, it would be more useful".
Now it seems the Kremlin's patience is running out, our correspondent says.
President Medvedev said his counterpart had broken "not only the diplomatic rules, but the elementary rules of behaviour".
He said President Lukashenko had acted dishonourably when he promised to recognise Georgia's breakaway regions of South Ossetia and Abkhazia as independent states, but then failed to do so.
He said he was astonished that in a private meeting with him, Mr Lukashenko had spoken in a negative way about former Russian presidents Boris Yeltsin and Vladimir Putin.
In recent weeks state-controlled Russian TV has broadcast a number of documentaries which have been critical of Mr Lukashenko - fuelling speculation that in December he will not have Moscow's support.