Farmers defend controversial EU subsidies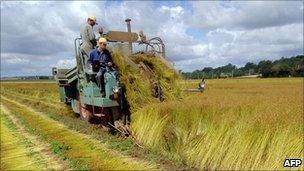 The EU's complex and costly system of farm subsidies is under review and next month the European Commission will present its reform plans.
France - the EU's biggest food producer - does not want farm subsidies to be cut, unless global rivals like the US also agree to cut their subsidies.
But the UK wants far-reaching reform of the EU's Common Agricultural Policy (CAP), with less spent on food production and more on the environment.
What does the CAP look like down on the farm? The BBC's Christian Fraser in France and Stephanie Holmes in the UK went to find out.
Christian Fraser - France
Francois Vandenbussche follows in the footsteps of his father and grandfather working the family farm - and banking the EU subsidy. Without it, he would scarcely scrape a living from 200 hectares (494 acres) of maize, wheat, barley and flax.
"We've cut the cost of production - we can't reduce our costs any more. We need the subsidy to stay on the land," he says. He farms just east of Paris, in the Ile de France.
The EU subsidy is the safety net that protects Francois - and supposedly the European consumer he feeds - from wildly fluctuating fuel and cereal prices.
He is paid according to the size of his farm - which is monitored by satellite - and the way in which he farms.
Under EU rules, he cannot turn to the cheap fertilisers or pesticides they might use in Latin America. His fields are surrounded by streams, grass borders and woodlands which he is paid to protect.
The land - fruitful, fertile and able to deliver the highest-quality products to consumers - is an important part of the French psyche.
But in the past 40 years rural France has seen seismic change. It now accounts for less than 3% of the national workforce. The number of farms has plunged from two million in 1960 to around 650,000 today.
With globalisation food producers and wholesalers can afford to shop around, driving the prices down. It means farmers cannot cover the costs of producing their cereal, wheat, or milk.
Hugues Rabourdin was determined not to be a victim. When he took over his father's farm in 2006, the money he made on his cereal crops barely covered his costs. So he did just what the EU subsidy encourages small farmers to do: he diversified.
Now, his barley and wheat produce 100,000 bottles of award-winning beer in Courpalay, also in the Ile de France. Admittedly overheads are high, but today the microbrewery contributes at least 70% of his farm's annual turnover.
Diversification has its limits. Despite the pressure being applied at EU level to encourage farmers to find new sources of income the reality is most do not have the means to do it, while others would simply refuse.
"It's a good thing to look for diversification, but it's difficult and risky," says Hugues.
He thinks Europe has to decide if it wants to keep regional, diverse and high-quality foods, as well as organic and sustainable farming. If it does, then he believes it has to pay.
Any hint here that farmers are unduly cosseted infuriates the likes of Francois and Hugues. They have already answered the call to adapt, modernise and diversify - but in a cut-throat global market they still cannot survive without the EU's handouts.
In the Hope Valley, in England's Peak District, Upper Booth farm sits amid green hills criss-crossed with black dry-stone walls. Sheep huddle against the walls in the driving rain.
Like farmers across Europe, Robert Helliwell receives CAP money each year.
But it is not the CAP money, or even the income generated by his 40 head of cattle or 300 ewes that keeps him and his remote farm afloat. Most of it is earned in the few summer months, when the sun shines.
"These two fields," he says, gesturing towards a lone, blue tent, "generate almost 60% of my income".
Yet the campsite represents just 0.5% of his land - a sign of how hard it is to make hill farming economically viable.
Stung by images of EU grain mountains and wine lakes, Brussels encouraged farmers to diversify and offer leisure facilities. But now, with commodity prices volatile, food security is a big issue again.
Farmers like Robert wonder what they will do if - like so many other sectors - their incomes are squeezed.
"If we didn't have the CAP payment, we wouldn't be farming here," he says. "We would have to go and look for a job elsewhere."
Sheep farmers are among the most highly subsidised in the UK, farming on land where the soil is too poor, or too hilly, for other animals or crops. They argue that without their low-impact management of the land its character would change forever.
While Robert has followed the classical route of diversifiying, others have specialised.
From his kitchen table in his South Downs farmhouse, Chris Hodgkins tells how he first began to investigate the possibility of breeding a ewe that could virtually look after herself, and her lambs, unaided, minimising costs and time for the farmer.
"We'd always had young New Zealanders who'd helped us out with lambing," he explains. "They had lots of sheep experience and they'd always given us a lot of stick about mollycoddling our sheep. All of a sudden, the penny dropped - with the right system we could reduce our overheads."
Chris and his wife Caroline began importing genetic material from New Zealand - first frozen sperm and then frozen sheep embryos to be artificially inseminated. Finally, live rams began making round-the-world journeys to end up on an English hillside, bringing their valuable DNA with them.
On Locks Farm, Chris has ended up with a herd of Romney breed sheep that are resilient and self-sufficient, with strong maternal instincts. The innovation won him the Sheepfarmer of the Year award in 2009.
"They take care of themselves - give birth outside, by themselves, whereas before we'd have been lambing 24 hours-a-day. Now, we lamb 3,000 sheep, three of us, and finish at seven o'clock in the evening, and watch television," he smiles.
Despite all his efforts to reduce costs, he would still struggle without his CAP money.
"I suppose between 40 and 50% of our income comes from CAP and without those payments we'd make a thumping great loss."
A tenant farmer, he criticises a subsidy system that rewards land ownership without an upper ceiling on EU payments.
"If we channelled that money into active farmers, as opposed to just those who owned land, we could probably lower our budget," he says.
"What we want to support is people actively engaged in food production or conserving the land."
Related Internet Links
The BBC is not responsible for the content of external sites.