Eyewitness: Hungary's toxic spill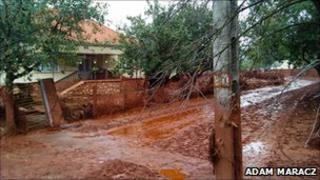 Hungary says it will cost tens of millions of dollars and take at least a year to clean up the damage caused by a spill of industrial toxic red sludge.
Emergency workers are trying to stop the spill, from an alumina plant, from flowing into major waterways, including the River Danube
A state of emergency has been declared in three western counties after the chemical waste burst from a reservoir. Four people are known to have died, and 120 were injured. Six more are missing.
Adam Maracz lives in Budapest but is originally from Devecser, one of the affected towns.
"Everything was red"
I live in Budapest but my family is from Devecser, so I went yesterday to help and bring supplies to their local centre of aid operations.
My family was affected. My brother is a policeman, also working in Budapest, but he was in Kolontar when the disaster happened.
He went to Devecser, to rescue some people from the roof of the houses. With the help of locals and firemen they rescued around 60 people. His legs were burnt, but he got treated in the hospital of Ajka at night and is doing well.
Everything was red, it was very sad to see the loss of those hard-working people and the damage to the environment where I grew up.
However, it was good to see that there are hundreds of helping hands.
The police have closed the affected area, so everyone who lives there has had to leave their homes.
In Devecser some people are staying in the old courthouse, but most of the people have already moved to different towns or to their relatives' houses.
Around 10 military personnel in protective clothes and special cleaning equipment set up a check-point in the middle of the city.
They cleaned the streets and also stopped all the drivers and pedestrians to clean their cars and clothes. I could not visit the most affected area because I wasn't wearing boots at the time.
Some people are quite angry with the situation. They wanted to hear an official statement from the company, MAL Rt, which was not timely. Their communication was quite bad.
Most of the people are scared and have no idea what to do in the future, how to clean up or rebuild their houses.