Nobel winner Joseph Stiglitz opposed to Nama move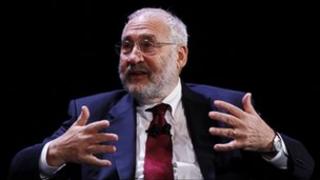 A Nobel prize winning economist has said that the transfer of a developer's loans to the Irish Republic's "bad bank" has questionable benefits.
Joseph Stiglitz' statement was read at a judicial review into the transfer of Paddy McKillen's loans to the National Assets Management Agency (Nama).
The Belfast-born developer is arguing that his loan repayments are being met and the transfer is unconstitutional.
Dr Stiglitz said a claim the loans were a "systemic" risk was "nebulous".
Hurt
He said that, in his opinion, the Irish economy would benefit most from leaving the loans with the banks in which they reside.
He added that it was "good policy" for Nama to gather information from borrowers who wanted to make a case for staying out of Nama.
If Nama neglects to gather such information, it will almost surely make economic mistakes that hurt the state, the borrowers and the banks, he said.
One of Mr McKillen's companies, the Maybourne Group, owns some of London's most prestigious hotels, including Claridges and the Berkeley.
Many of the loans which Mr McKillen is trying to prevent being moved into Nama relate to developments in Northern Ireland.
The total amount of the loans transferred is about 2bn euros, with 800m euros of that owed to Anglo Irish Bank.
'Alienated'
The current chief executive of Anglo Irish, Mike Aynsley, wrote to Nama in June and said he was disappointed that Mr McKillen had become "disillusioned, frustrated and alienated" because of the proposed transfer of the loans and the lack of an explanation for the decision.
Mr Aynsley told Nama that Mr McKillen was someone who had the capacity to actively participate in Ireland's recovery from recession.
Earlier on Wednesday, the court heard claims that the only reason Nama acquired Mr McKillen's loans was because of the amount of money owed.
Lawyers for Mr McKillen said that no checks were carried out on the quality or otherwise of the loans.
His barrister Michael Cush said neither the fact that the loans were performing nor the geographical spread of the portfolio had been taken into consideration.
Mr Cush said Mr McKillen was not arguing that systemic risk was not a valid basis on which to make a decision to acquire loans - but that the decision had to be approached in the right way.
Mr Cush also argued that the decision to acquire Mr McKillen's loans was made by officials from the National Treasury Management Agency on the 11 and 14 December last year, before Nama was set up on 21 December.
He said the decision could not have been validly ratified.
Nama says the National Treasury Management Agency had full authority to carry out all preparatory work for Nama.
It says the decision to acquire Mr McKillen's loans was approved by the board of Nama in January this year.