Sarkozy tweaks pension plan as open-ended strikes loom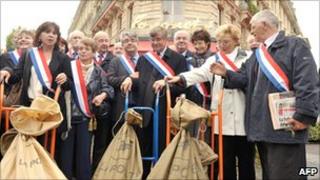 French President Nicolas Sarkozy has said he will inject more cash into his retirement reform bill so some parents can retire earlier.
The announcement comes after trade unions announced open-ended strike action against the reform on Wednesday.
The bill is currently before the French Senate.
A fourth day of protests is due to be held on Tuesday against the proposed reform which will raise the standard retirement age from 60 to 62.
Labour Minister Eric Woerth confirmed the changes on Thursday morning before the Senate.
The main changes will benefit mothers of three or more children, and parents of handicapped children.
They will be financed by new taxes that will bring in 3.4bn euros (£3bn).
Opposition Socialist senators denounced the changes as simply reinstating existing advantages that had been due to be axed.
"You're turning the debate into theatre," said the Socialists' Senate leader Jean-Pierre Bel.
The government had previously amended the bill to protect workers in labour-intensive industries.
Loggerheads
The unions and the government have been at loggerheads for months over this new pension reform bill, but the signs are that things are about to get worse, says the BBC's Christian Fraser in Paris.
Open-ended strikes are expected to be staged from Tuesday, as public transport and energy workers hold a fourth day of protest in just over a month.
The rolling strikes are organised by serving notice of 24-hour stoppages and are renewed each day before they expire. Members of the union would need to be balloted at the end of the strike day on Tuesday.
Public transport and energy workers are in favour of such action, our correspondent says; should they vote in favour, France could be plunged into chaos, he adds.
"At this stage, we have no choice but to go radical," said Bruno Duchemin, a spokesman for the CFDT-Fgaac union, one of the main unions at the SNCF state rail company along with the CGT.
Unfair burden
French workers can expect to spend more of their life in retirement than those in any other country, according to figures from the Organisation for Economic Co-operation and Development (OECD).
Under current rules, both men and women in France can retire at 60, provided they have paid social security contributions for 40.5 years - although they are not entitled to a full pension until they are 65.
The government says it will save 70bn euros (£58bn) by raising the retirement age to 62 by 2018, the qualification to 41.5 years, and the pension age to 67.
Unions and opposition politicians had said the plan puts an unfair burden on workers, particularly women, part-timers and the former unemployed who may struggle to hit the 41.5-year requirement.
They have made counter-proposals, including calls for taxes on certain bonuses and on the highest incomes to help fund the pension system.