Economist accuses Nama of 'pursuing self-interest'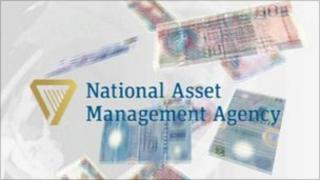 A US economic consultant has accused the Republic's 'bad bank' Nama of "pursuing self-interest" rather than the public interest it is supposed to.
Michael Cragg made the allegation in a sworn affidavit in the case of Belfast-born developer Paddy McKillen.
Mr McKillen''s claim that Nama has no right to take over loans made to him is being heard at the Dublin High Court.
Mr Cragg said with "performing loans" such as Mr McKillen's, Nama could only create economic damage.
The Belfast-born developer is arguing that his loan repayments are being met and the transfer is unconstitutional.
The National Asset Management Agency (Nama) was set up in response to the banking and property crisis, and is taking over all major development loans from Dublin-based banks.
Mr Cragg, of economic consultants the Brattle Group, said its role should be confined to paying for bad loans at fair market value, not taking over performing loans - those where repayments and interest is being met.
"Nama in Ireland has an incentive to acquire bank assets that are performing well at a discount," he said.
"This is because such acquisitions will allow Nama to offset losses from the riskier loans. In seizing good assets, Nama can create short-term gains for its shareholders."
He added: "Moving performing loans to Nama will, in all likelihood, destroy the value of those loans because Nama has no real banking functionality due to its lack of underwriting and credit issuance capabilities."
Mr Cragg also accused Nama of dealing with borrowers "with the express purpose of protecting itself from an EU challenge".
He said allowing borrowers the benefits of due process as to whether or not their loans are taken over would enhance Nama's efficiency and the regard it was held in internationally.
Reputation
Mr Cragg's colleague at the Brattle Group, Joseph Belanger, also said in an affidavit that Mr McKillen's loans were performing and should not have been taken over by Nama.
He said the extraordinary non-commercial powers granted to Nama would deprive Mr McKillen of contract rights under the loan agreements.
He added that Mr McKillen's association with Nama would damage his reputation and cause a decline in his property values and therefore a loss in his net worth.
"Nama's objectives cannot serve as a substitute for the long-term banking relationships that Mr McKillen has developed with the Bank of Ireland and Anglo Irish Bank that date back 30 and 20 years respectively," he said.
One of Mr McKillen's companies, the Maybourne Group, owns some of London's most prestigious hotels, including Claridges and the Berkeley.
Many of the loans which Mr McKillen is trying to prevent being moved into Nama relate to developments in Northern Ireland.
The total amount of the loans transferred is about 2bn euros, with 800m euros of that owed to Anglo Irish Bank.