EU police agency Cepol criticised over accounts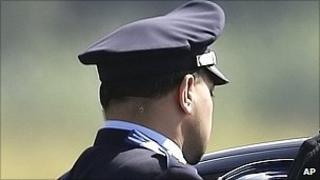 Euro MPs say the European Police College (Cepol) in the UK has failed to meet EU accounting standards and they are freezing 425,000 euros (£373,000) of its funding for next year.
EU auditors highlighted shortcomings in Cepol's accounts last year and MEPs decided on Thursday that Cepol had not yet addressed the auditors' concerns.
The EU anti-fraud office Olaf has been investigating Cepol.
The college is in Bramshill, a village 70km (43 miles) west of London.
In February this year the previous director, Ulf Goeransson, was replaced by Ferenc Banfi, a Hungarian police officer.
A statement on Cepol's website on Thursday said the Olaf investigation had "led to a referral for criminal procedure against the former director".
The European Parliament voted overwhelmingly on Thursday not to give the discharge for Cepol's 2008 accounts. It is rare for MEPs to signal such general disapproval of an EU agency's accounts.
So far MEPs have granted budget discharges to all other EU agencies.
Cepol was launched in 2005 with a mission to develop an EU network of senior police officers. It organises training courses, seminars and exchange programmes.
Scrutinising costs
According to Cepol, it has "implemented a transformation programme" and "the Cepol of 2008 no longer exists".
The college's 2008 budget was 8.7m euros and the college employed 27 staff.
MEPs have questioned the small college's governance costs, noting that it has a 27-member governing board.
The parliament's budgetary control committee said the new director had delivered an action plan on time, but it was "vague" and the MEPs were "not ready to accept that the college needs four more years to reach an acceptable standard of good administration".
Last year the EU Court of Auditors found there had been "a high number of breaches" of EU administrative and financial rules at Cepol.
In previous years the auditors had also criticised the college for not having the documentation to justify certain purchases.
According to the parliamentary committee, "the amount of expenditure for the use of mobile phones and cars by staff is still not clear".