France not to balance budget 'for a decade'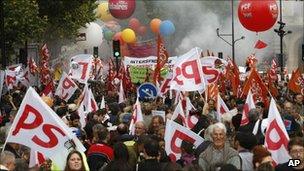 France's Prime Minister Francois Fillon has said the country will need at least a decade to balance its budget, despite adopting an austerity programme.
He said reducing the deficit "cannot be the effort of one year or even three" but that "it's a job of 10 years".
France has not managed to balance its budget since 1976.
The planned reform of pensions has been the most heavily-debated austerity measure, and the plans have led to a series of strikes in protest.
In its draft 2011 budget adopted last week, Mr Fillon's government put forward austerity measures, including significant public sector spending cuts and the reduction of some investment incentives.
The controversial pensions reform, which plans to raise the minimum retirement age from 60 to 62, is a crucial part of the savings plan. It is currently being discussed in Parliament.
Following several nationwide demonstrations, the government has made a few changes, but an adviser to President Sarkozy warned on Friday that "on the core of the project, the government will not budge".
Trade unions are calling for more nationwide strikes, and the next one, planned for Tuesday 12 October, could be extended to several days in some industries such as public transportation.
Many strikers would like to see the budget deficit funded by higher taxes for top earners and wish to put an end to the so-called "fiscal shield", protecting anyone from paying more than 50% of their income in tax.
However, Budget Minister Francois Baroin insisted that the measure would remain in place in 2011.
France's public deficit reached 7.7% this year. The government promised to gradually bring it back below the 3% level required by eurozone agreements, aiming to meet this target by 2013.
Related Internet Links
The BBC is not responsible for the content of external sites.